Entrepreneurs will pitch their business ideas to a royal audience when UWE Bristol hosts the Pitch@Palace On Tour.
The Duke of York will hear pitches on the theme The Future of Mobility and Materials when he attends the prestigious event at Future Space on the university's Frenchay Campus.
Up to 20 entrepreneurs will promote their innovative products and services to a panel of judges on Monday as they bid to secure a place in the next round of the competition.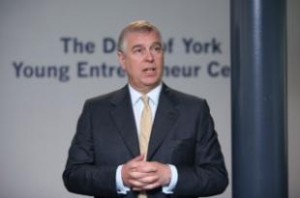 Ahead of the pitching, His Royal Highness, pictured, will officially open Future Space, the new state-of-the-art hub for innovative science and technology start-ups and SMEs which has opened as part of a new £16m University Enterprise Zone.
Future Space has been designed to spark growth and innovation by connecting entrepreneurs and innovators with scientists, researchers and graduate talent. The Duke will also receive a tour of the adjacent Bristol Robotics Laboratory, the most comprehensive academic centre for multi-disciplinary robotics research in the UK.
Pitch@Palace is aimed at helping the next generation of early-stage companies and entrepreneurs by giving them the opportunity to meet people who can make their business dreams become a reality. The scheme provides entrepreneurs with long-term support and connects them with potential backers including CEOs, influencers, angels, mentors and business partners.
UWE vice-chancellor Prof Steve West said: "We are delighted to be hosting Pitch@Palace. It is a highly successful initiative keenly focussed on the benefits offered by effective collaboration and innovation, a focus very much shared by our university.
"I am particularly pleased to see start-ups which began life as innovative UWE Bristol student projects among the businesses shortlisted to pitch their ideas on the day.
"It is a great honour to welcome The Duke of York to formally open Future Space, a hub for innovation which has exceeded all our expectations and is now home to a host of small enterprises benefiting from a unique environment at the cross-section of academia and industry."
UWE Bristol is hosting one of three On Tour regional events in the UK this summer – the others take place in Aberdeen and Oldham.
Entrepreneurs who impress judges at the regional events will progress to Pitch@Palace Boot Camp, where 42 participants will compete for an opportunity to pitch their ideas to an influential audience of business leaders and investors at St James's Palace later this year.
The theme for the latest series of Pitch@Palace events is aimed at exploring technology that impacts the future evolution of mobility and autonomous systems and the critical materials that are essential for the functioning of high-tech products.
Since it was launched in 2014, Pitch@Palace has supported more than 400 companies, helped create 870 new jobs and stimulated more than £300m in new economic activity.
The Duke of York said: "I am delighted to be able to bring Pitch@Palace On Tour to Bristol. Pitch@Palace is designed to support, enhance and add value to start up and scale up companies by providing a platform for entrepreneurs and audiences to meet, network and hear the great ideas that are being commercialised and built by the next generation of entrepreneurs. I wish the entrepreneurs a successful time engaging in Pitch@Palace."