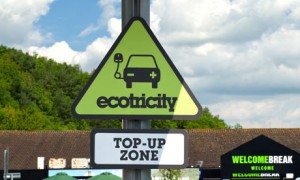 Electric cars can now drive between Bristol and Exeter without fear of running out of power after Ecotricity opened a new charging point on the M5 at Sedgemoor services – as part of the world's first national charging network.
The "Electric Highway" now has charging points at Welcome Break motorway services on the M5, M4, M25, M40, and M1 – all powered by green electricity from Ecotricity's 53 windmills and solar farm.
This breakthrough in electric car infrastructure removes one of the main barriers for people wanting to buy electric cars – so called 'range anxiety' – with people restricted to driving within their own city and afraid to drive between cities for fear of running out of power.
Six motorway 'top-up zones' have now been installed at Welcome Break motorway services, including:
Sedgemoor services (Northbound M5 between junctions J21-22)
Membury services (M4 between London and Bristol – between J14 and J15)
Michaelwood services (M5 between Bristol and Birmingham)
Hopwood Park services (M42 at junction 2)
South Mimms services (M25 and M1 junction)
Oxford services (M40 between London and Birmingham – junction 8a at Oxford)
Twelve 'top-up-zones' in total will soon be located at motorway services around the country to complete the first phase of the network. Each post will be located outside the main entrance of Welcome Break, with two sockets that can be accessed by registering for a free swipe-card. Within 18 months, all 27 Welcome Break motorway services across Britain will have charging points.
Electric cars using rapid recharge points (32Amp with 7-pin socket) can top-up in around 20 minutes or fully charge in two hours; while those using the slower (13Amp supply) will be able to recharge fully if staying overnight at Days Inn motorway service hotels.
Founder of Ecotricity, Dale Vince OBE said: "People have asked why we are building this Electric Highway when there are only about 2,000 electric cars on the road today. In fact that's a big part of the reason – a lack of demand.
"It's often said that one of the reasons more people don't buy electric cars is because of a lack of charging facilities – while the reason more charging facilities aren't built is because not enough people are buying electric cars – classic chicken and egg stuff. We're hoping to break that impasse.
"We're creating the infrastructure to get Britain's electric car revolution moving."
With world oil prices going through the roof, you'll now be able to get around Britain using only the power of the wind. It costs just over 1p a mile for electric vehicles, compared to 15p in a petrol car (at today's prices).
The UK consumes around 23 million tonnes of oil every year in the UK to do the 250 billion miles we drive every year. But we could power all that with 12,000 of today's windmills, or just 6,000 of tomorrow's."
A driver doing a year's typical 8,500miles of motoring could save almost £1,000 in petrol costs at today's prices, and save around 2,000kg in CO2 emissions.
Electric car owners who want to register for a free swipe card can visit Ecotricity's website at www.ecotricity.co.uk/for-the-road
UK electric motoring facts
There are currently around 2,000 pure electric vehicles in the UK; on top of that there are a few hundred plug-in electric hybrids. There are around 30,000 petrol hybrids that have a battery fitted, but these batteries cannot be plugged into a socket, their charge either comes from the petrol engine or from energy stored during braking.
There are around 400 charging points in cities around the UK, with a concentration of around 250 in London which belong to a number of networks.
The Department for Transport predict that by 2015 they "expect to see tens of thousands of plug-in vehicles on the roads in the UK".
Most car charging would happen overnight, when grid demand is traditionally lowest so may not need a corresponding 16% increase in capacity
A electric car can typically do 4,200 miles on one MWh of electricity
The UK would need an additional 59TWh of electricity to power those journeys
That is equal to the output from 12,000 wind turbines (assuming their current design)
This would save 71 million tonnes of CO2 emissions annually
With a total UK grid demand of 383TWh (in 2010) that means a 16% increase in output