Zap-Map, the Bristol-based electric vehicle charge point mapping app,  has received a £9m investment to fuel further growth and steer it towards international expansion.
Zap-Map has grown to become the UK market leader since its launch eight years ago , with a 70%-plus share of the rapidly growing electric vehicle (EV) driver market.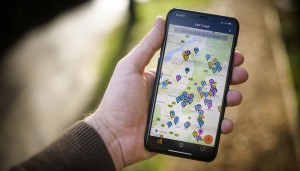 The new funding has come from majority-owner Good Energy, the 100% renewable electricity supplier and energy services provider, and new investor US fuel card and payment giant Fleetcor.
It will enable Zap-Map to expand its development team, enabling it to continue building on its paid-subscription services, while also launching in overseas markets.
Chippenham-headquartered Good Energy has invested a further £3.7m in the firm alongside £5.3m from Fleetcor.
Good Energy first invested in Zap-Map three years ago, snapping up a 12.9% share in its parent company Next Green Car.
It later increased its stake to 50.1%. That shareholding has now been reduced to 49.9% following the latest deal – which values Zap-Map at £26.3m – with Fleetcor now owning 19.9%.
A £1m convertible loan note issued to Zap-Map by Good Energy in April 2021 has also been converted into shares.

Good Energy chief executive Nigel Pocklington, pictured, who is also chair of Zap-Map, said: "I'm very excited to announce this new investment, which is a huge boost for Zap-Map's growth plans.
"There are over half a million EV drivers in the UK, with millions more switching to electric in the coming years.
"It is a race towards zero-emission transport and Zap-Map is placed right at the front of the field, where we plan to keep it.
"Bringing on a partner with the scale and compatibility of Fleetcor ensures that that is possible, opening up further possibilities in international payments and fleet electrification."
Zap-Map chief executive Richard Bourne added: "This fundraising round allows us to accelerate Zap-Map's core mission – making it simple for current and future electric vehicle drivers to plan journeys, search and pay for electric vehicle charging.
"Good Energy has proven a powerful partner to date and we are delighted to have a new strategic collaboration with Fleetcor which will supercharge our ambition to accelerate the provision of services to the fleet market and allow us to look ahead and expand internationally."
Good Energy said its participation in the funding round was in line with its strategy to build a platform which makes it simple for people to generate, share, store, use and travel with clean power.
It said Zap-Map was playing a strong role in its three-pronged strategy across clean energy supply, energy services and transport – and would contribute to its ambition of helping 1m homes and businesses cut their carbon levels by 2025.
Good Energy, which was founded in 1999, buys electricity from 1,700 independent generators across the UK, providing wind, biogeneration, solar and hydroelectric power.
Fleetcor, which has a $17bn (£13.9bn) market value and last year had revenue of $2.8bn, processes billions of electronic transactions a year.
Its investment in Zap-Pay builds on an existing partnership integrating Fleetcor's Allstar Business Solutions into Zap-Map's Zap-Pay product, which is designed to make EV charging payment simple. Zap-Pay has already integrated with nine charging networks.