Seven Bristol firms have lent their hard-earned business insights to a new book aimed at passing down experiences of starting, running and growing creative companies.
Called One Thing I Know, it is published by Creative England as a free book and website, and compiles advice from creative entrepreneurs in a series of articles.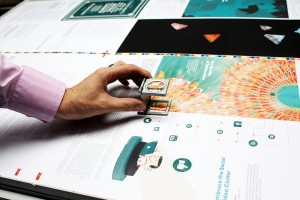 The Bristol companies featured are Aardman, Crack Magazine, Fiasco Design, Mobile Pie, Taxi Studios, Slingshot and twofour.
The articles cover all the creative sectors and come from both established creatives – including Dave Sproxton (Aardman) Charles Wace (twofour) and Spencer Buck (Taxi Studio) – along with 20-somethings whose agencies are just surviving their first few years.
The book, designed by Bristol-based Fiasco, also contains original artwork from more than 30 commissioned UK artists, including Gav Strange, Slumber Bean, Pixillion and Sneaky Raccoon.
The free book can be ordered from www.OneThingIKnow.co.uk, where all the articles are also available in digital format.
Aardman executive chairman David Sproxton said: "Learning from others and their mistakes is so much better than struggling on your own and making many mistakes along the way. So much of what we know, we have learnt from others, and the skills of entrepreneurship are no different. This website and book are valuable tools to help drive success for all budding entrepreneurs."
Creative England CEO Caroline Norbury added: "England's creative businesses are already a big success. They generate jobs, profile and value and they drive innovation. Creative England's objective is to help them raise that ambition further and support them to grow."
Creative England innovation director Anthony Story said: "If there's one quote that stands out from working with many creative entrepreneurs, it's 'I'd like to talk to someone who's done it before'. Gaining insight to entrepreneurs who have already navigated the challenges they face, can clarify things in a way 20 business consultants would never achieve. That's really the inspiration for One Thing I Know."
Book and website editor Daniel Humphry added: "Despite opportunities being rare in this recession, small creative businesses are popping up across the country, fronted by young creatives who refuse to sell themselves short. They are producing innovative, trendsetting work and in many areas out-stripping the established agencies who years before had nothing for them. Hopefully this book can be of help as others follow that path."