Bristol-based Molson Group, the UK's largest independent distributor of capital equipment to the construction and waste management sectors, has expanded in the US with its second acquisition in just over six months.
In a deal supported by Bristol-based advisors, the firm snapped up Powerscreen of Washington State, giving it coverage across the whole of the US West Coast and providing a strong platform for future growth in North America.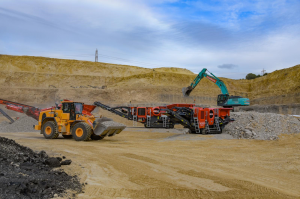 Molson, which generates more than £375m in revenue, made its first move into the US market in April through the takeover of Powerscreen of California and Hawaii.
Molson Group COO Jason Powles said there was likely to be more acquisitions as the business continues to expand across the globe.
He said: "Molson Group is a highly successful equipment dealer, working with some of the world's leading equipment manufacturers.
"We know how to optimise the performance of dealer businesses, using our own tried and tested practices, including implementing the highly effective SmartCMD technology suite."
The ERP (enterprise resource planning) system uses data insights to enable more accurate forecasting and business planning, while its fleet management platform uses advanced telematics to deliver insights into machine utilisation, fuel consumption, carbon emissions, running costs and more.
The deal, financial details of which have not been released, was supported by Bristol-headquartered national law firm TLT, while KPMG Deal Advisory provided support to Molson. Funding was provided by HSBC.
TLT partner Andrew Webber said: "Molson is a great example of a highly successful business headquartered in the South West which is making moves on a global scale.
"Molson has been successful in leveraging its experience as an equipment dealer to support the development of an impressive range of technology products, enabling the business to expand into new territories and increase its presence in a broad range of end markets.
"As a business growing both organically and through M&A, I am confident that Molson will continue to expand and demonstrate what the South West has to offer."
HSBC corporate relationship director Ian Scott added: "We are delighted to have supported Molson on this acquisition. We have a longstanding relationship with the business and this deal will give Molson a strong platform for future growth in the US market."
Founded in Yatton in 1996 by Jonathan Wilson and Robin Powell, Molson provides sales and aftersales services for heavy construction equipment – such as excavators, material handlers, crushers and loaders – to the construction, quarrying and waste management industries.
The firm has grown organically and through acquisition and now operates from depots in Warrington, London, Kent, Stratford Upon Avon and Doune in Scotland as well as its head office at Avonmouth.
It works with leading original equipment manufacturing brands and is the largest European dealer for Korean and Japanese excavators, including Hyundai, Kobelco and Ammann brands.