James Durie, the chief executive of the Bristol Chamber of Commerce and Initiative, is to step down from his role after 21 years at the end of this year.
James, pictured, who is also an executive director of Business West, the chamber's parent group and the region's largest business group, is widely acknowledged as playing a significant role in the development of Bristol as a leading business centre over the past two decades.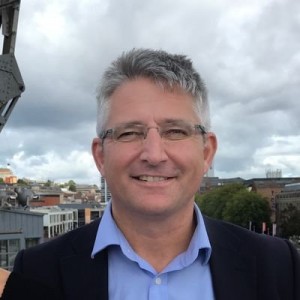 During that time he has spoken for, represented and led the business and employer community in the city and the wider West of England region through often turbulent times, including changes of government, local authority administrations and fluctuating economic fortunes brought about by the 2008 financial global financial crash, Brexit and, more recently, the Covid-19 pandemic.
He also played key roles in the campaigns to secure an elected mayor for Bristol and devolution of certain powers from Westminster to the West of England with the formation of the West of England Combined Authority. 
Business West managing director Phil Smith said James had brought knowledge, skills and energy to his role and demonstrated great passion for Bristol and the West of England.
"James will be much missed by his Business West colleagues, our members and the many partners we work with," he added.
"Over the past two decades he has enabled business to be well-represented, playing an active role in shaping and influencing positive change for the benefit of all our communities.
"In particular, he has provided unwavering support and leadership to the members and the board of the Bristol Chamber of Commerce and Initiative together with our various partnership organisations.
"I would like to take this opportunity to appreciate James' great commitment and thank him for his invaluable contribution to Business West and the Bristol Chamber and Initiative. We wish him the very best with his new venture."
James said: "After 21 years I have decided the time is right for me to step down from my role at Business West Chambers & Initiative.
"I have had the privilege to work with so many amazing people in my role in the development of Business West Chambers & Initiative and the important work it does and different roles it has been able to play.
"I now feel ready for a change of emphasis and will be embarking on new and exciting challenges, more details of which I will be sharing in the New Year and coming months.
"As ever, and particularly in this current economic environment, Business West has lots to offer companies to ensure they survive and thrive and I wish it every success as it continue on its mission to do this."
Over the next few weeks James will be assisting Business West director of membership Emma Carter in her newly created role as it becomes is central to a new approach to membership by Business West and its chambers of commerce and initiative.
This task will be to integrate all Business West's existing membership levels and teams into a regionally cohesive offer that works across the whole of its region, which covers Bath, Gloucestershire, and Wiltshire as well as Bristol.