Nearly 70% of businesses in the Bristol Water supply area are ready for the new retail market in the industry, according to a new survey.
The new water market opens for business next month and awareness of it was just 32% when Bristol Water conducted its last business stakeholder survey in May last year. 
But results of the latest survey show a dramatic improvement with 69% of the 326 respondents saying they were aware of future competition and that from April they would be able to switch to a new supplier.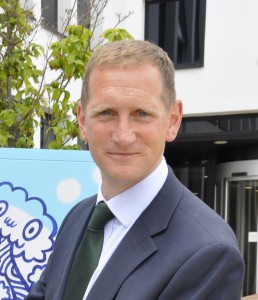 Water deregulation in the UK has been driven by the government to remove barriers to competition and improve choice for non-domestic customers – the programme is called Open Water. 
Scotland became the first country in the world to deregulate its water market for non-domestic customers back in 2008 and many businesses in Scotland have changed supplier since then.
England will follow in Scotland's footsteps on April 1, giving businesses, charities and public sector organisations the same freedom to choose their water supplier.
Bristol Water has been working on a year-long communications programme around retail market opening to ensure staff, stakeholders and customers understand the changes.
Its customer services director Ben Newby, pictured, said: "Everyone in the water industry is talking about water deregulation in England this year, so it's good to know that the message is getting through to the businesses who will benefit from the change.
It's important that non-household customers are aware of the choice that is now open to them in terms of retail services, while at the same time we want to reassure everyone that they can still expect high standards of customers service from us as we move into a wholesale role."
Ofwat's senior director for communications Claire Forbes added: "As one of the Open Water programme partners, we are delighted to see this level of awareness. The England-wide customer awareness campaign is certainly having an impact and we know from the feedback we are getting that more and more businesses, charities and public sector customers are now aware that they will soon be able to choose their water and wastewater retailer."
The Bristol Water survey also asked business customers what their priorities were from us in our wholesale role. The top three rated 'very important' were:
Responding quickly in emergencies relating to water supply issues (94%)

Providing water that tastes and smells good (93%)

Providing a regular and reliable supply (93%)
Bristol Water also asked whether it had a good reputation as a business – just 2% disagreed – and if it was good to do business with, with only 3% disagreeing
For every survey completed Bristol Water gave £5 to WaterAid – in total it contributed £1,630.
Bristol Water has made a short animation to help explain the change to the market – https://www.bristolwater.co.uk/your-business/wholesale-information/about-bristol-water-wholesale/
For more information about Open Water and to find out if a business is eligible please visit www.openwater.org.uk