Bristol Business News travel editor Anne Gorringe discovers ancient temples, blue lagoons and boat rides across the bay – plus a booming film industry – on a magical trip to Malta
Film fans have an extra reason to visit the beautiful island of Malta this summer. Award-winning director Ridley Scott will return to its capital Valletta with legions of 'Roman soldiers' to weave his magic for Gladiator 2.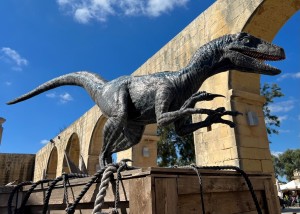 Filming is due to begin next month – incredibly, that's 23 years since the original burst onto our cinema screens. The sequel has been a long time coming, but special effects crews are already said to be hard at work in the city creating the sets.
The velociraptor statue in Valletta
Such was the popularity of the original Gladiator, it was credited with reigniting the public's interest in 'sword and sandals' films.
We fell in love with Russell Crowe's Roman general-turned-gladiator Maximus, who was pitted against the cruel Emperor Commodus in the Colosseum.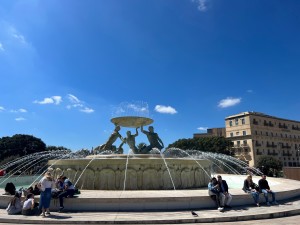 Commodus was, of course, played by Joaquin Phoenix, who is in the title role of Ridley Scott's other new film Napoleon, which was also filmed on Malta last year and is due in cinemas in November. 
Triton Fountain, Valletta
There's no doubt that Malta's film industry is booming. Malta Film Studios, on the opposite side of the bay to Valletta, was where films such as Midnight Express as well as sections of the TV series Game of Thrones were filmed.
There's even a surprising statue of velociraptor (from Jurassic World Dominion) standing on a plinth above the bay.
But away from the movie sets, there's plenty of action to be found on Malta.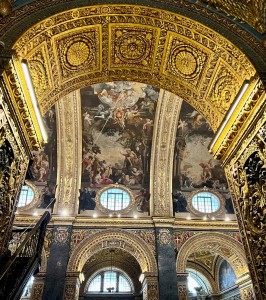 Nestled in the centre of the Mediterranean, it's just 90km south of Sicily, with Africa (Tunisia) 300km to the west. 
Historically, this gave it a strategic military importance which provided a safe haven for ships sheltering from enemy vessels, pirates and storms. 
St John's Co-Cathedral, Valletta
That, in turn, created a wonderful mix of cultures, with influences from Britain and the Middle East.
The island became a British colony in 1798 when the Maltese asked the British to help them defeat Napoleon.
From then on, the Royal Navy had a base here until the 1990s – which perhaps explains why Britain has remained a key market for the tourism industry.
For such a small country, Malta – which includes the smaller islands of Gozo and Comino – at just 122 sq miles is only a fraction bigger than the Isle of Wight.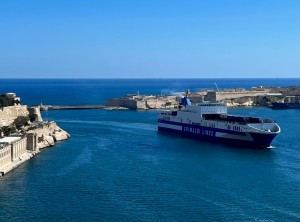 Until recently, many British tourists visited Malta to see where their parents or grandparents were stationed during the Second World War. 
Looking across the bay from Valletta towards the film studios
But there's been a major switch in the past few years – with most Brits now falling into the 26-45 age group, attracted by the fact that holidays here have been great value, not to mention the island's the culture.
Valletta itself was established in the 1500s by the Roman Catholic order the Knights of St John. It's both compact and beautiful. Inside its walled streets – each with a sea view – can be found grand churches, museums and palaces.
Malta and Gozo are also renowned for their ancient temples. On Gozo, the Ggantija Temples have been listed as a UNESCO World Heritage site since 1980 and are believed to date back to 3,600 BC – around 1,000 years older than our own Stonehenge. 
It's an easy day trip to Gozo from Valletta – and certainly worth the effort.
Ggantija Temples, Gozo. The name derives from the Maltese word for giant
I took a bus to Cirkewwa on Malta's northern coast, then travelled as a foot passenger on the Gozo Channel car ferry for less than £5. (Alternatively, there's a fast catamaran service from Valletta.)
Once on Gozo, a tuk tuk tour is a fun way to visit its main attractions.
While culture abounds, Malta's adventurous side also lures many visitors. The island is one of Europe's top places for diving – its 230 dive sites making it a huge draw for scuba and snorkelling fans.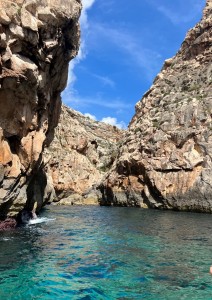 Away from the rocky coast, other activities on offer include horse-riding, action-packed jeep trips and, of course, the option to visit the locations where scenes from Games of Thrones were filmed.
Take the short boat trip around the western coastline of Malta to see the Blue Grotto
Getting around the island is cheap and easy – although the high density of population means that roads can be busy and certainly crowded during rush hours.
Buses go to all the main destinations although I also used the occasional taxi to get around – they're reasonably priced and certainly cheaper than in the UK.
A journey from the east of the island to the pretty centrally located Medieval walled city of Mdina – Malta's original capital – cost me €10.
On the day I visited, I was lucky to catch a festival, which had taken to the streets outside the city in the adjoining town of Rabat. 
In the north west of the island, horse-riding and a segway tour along the cliffs above Golden Bay proved an interesting way to visit the Majjistral nature and history park.
The pretty medieval old city of Vittoria (Birgu)
Here my segway guide Jean even managed to find some discarded old bullets strewn on the cliff tops – remnants, he said, from target practice by the British.
After an active morning, I was ready to head back to Valletta for lunch and a quick ferry ride across the bay into the ancient city of Vittoria (known locally as Birgu), home to the Maritime Museum and some easy harbourside strolls around its picturesque narrow streets.
It's easy – and cheap – to cross the bay. For a bargain €2 you can take the 'gondola' ferry  – although these days the 'dghajsa' boats have outboard motors.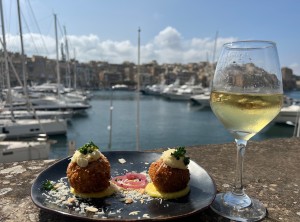 They're frequent too – leaving Valletta every five minutes to arrive around 100m from the museum, which was built in the 1840s, originally as a naval bakery and now houses a wealth of material celebrating Malta's maritime past. 
The view from Don Berto's restaurant was just as good as the food!
Lunch beckoned – a wonderful arancini paired with a glass of Maltese white wine and followed by beautifully cooked sea bream at the pretty Italian restaurant of Don Berto, overlooking the harbour.
Malta's food scene has had something of a boost in recent years. In 2020 six restaurants were awarded one-star Michelin awards. And, while Don Berto's isn't one of them – it's here that I enjoyed what was my favourite meal during my stay on the island.
As if culture, food and adventure aren't enough, other reasons to visit Malta include its annual fireworks fiesta and the gender-neutral Rainbow Festival in September. Robbie Williams is also scheduled to perform here during the same month.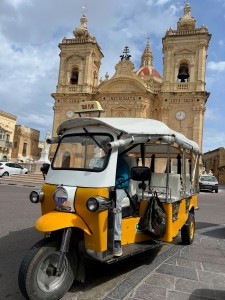 FACT FILE:
Stay in: There are two Radisson Blu hotels on the island. I stayed at the hotel in St George's Bay, on the coast a few miles north of Valletta. Hotel in St Julian's, Malta | Radisson Blu Resort, Malta
Get active: Always wanted to try horse-riding? The stables at Golden Bay cater for everyone from complete beginners upwards. See: GoldenBay Horseriding Or try a segway tour. See Guided tours with Segway Malta start at €45 and include clifftop tours or city tours around Valletta or Mdina. https://segwaymalta.com/
Go slow: Make the most of a trip to Gozo with a tour on a tuk tuk, pictured, to take in the main sites, including the fascinating temples. www.yippeemalta.com
Dine out: My favourite meal was at Don Berto, an Italian restaurant next door to Malta Maritime Museum and overlooking the harbour in Vittoria (also known at Birgu). Don Berto | Birgu Waterfront Restaurant
Top tip: Malta is a great location for a trip in the 'shoulder' seasons of spring and autumn. I travelled with Air Malta, which has daily flights from London Heathrow. https://airmalta.com
However, Jet2 now operates a twice-weekly service from Bristol Airport to Malta on Mondays and Thursdays. The airport is situated 5km south of Valletta. www.jet2.com