Nine inflatable giant robots are to set off on tour of UK festivals after the Bristol firm behind them secured a cash injection from a fund geared towards helping creative businesses across the West of England recover from the impact of the pandemic.
The funding, from the West of England Combined Authority (WECA), enabled robotics studio Air Giants to create the 5m-tall interactive inflatables.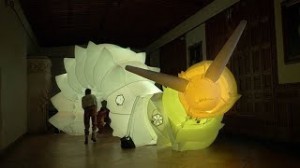 They will now be seen in events throughout the summer, including in London, Leicestershire, Norwich and the Malvern Hills.
The robots are the latest creations from the Lawrence Hill-based studio, which was founded in 2020 and employs a small team of roboticists, puppeteers and software engineers.
Inspired by natural movement, the studio creates enormous and expressive creatures and interactive spaces from towering tortoises, pneumatics newts and the towering plants, using cutting-edge robotic technologies that bring joy and wonder to large audiences.
Air Giants is also partnering with Bristol Robotics Lab – the pioneering joint venture between the University of Bristol and UWE – to carry out research.
The nine new robots were given a 'test drive' in the massive Tank House at Bristol's Bottle Yard Studios, which is usually used as a sound stage for movies and TV dramas, as they were too big to inflate in Air Giants' workshop.
Metro Mayor Dan Norris, who leads WECA, was on hand to see the robots take shape and learn more about the business.
He said: "It's not every day that you get to say hello to a 5m-high robotic plant.
"But it's projects like these that just go to show how innovative and rich with creative talent the West of England really is.
"I'm proud that a grant from the Combined Authority I lead is helping the region's roboticists, puppeteers and other creative people get back on their feet after the pandemic and face the future with confidence and boldness.
"Creativity and innovation runs through our region's veins and I'm proud to back the talented local people working in our truly world-leading creative industries."
Air Giants director Emma Powell added: "This programme from the Combined Authority has given us time to reflect and improve our business processes.
"Meeting and working with other innovative creatives to discuss the challenges of being a creative business post-pandemic has enabled us to move forward our projects, including our Unfurl installation, with confidence."
Pictured: Metro Mayor Dan Norris, fourth from left, with Air Giants directors Emma Powell, Robert Nixdorf and Richard Sewell and producer Lucy Heard