Bristol bio-pharmaceutical consultancy eXmoor Pharma has outlined its ambitious global growth strategy for the next 18 months to a government minister, including opening a £50m dedicated cell and gene therapy centre in the city and expanding into the North American market.
The firm, which specialises in world-leading cell and gene therapy, announced plans for the new purpose-built facility last year after receiving a £12m investment from specialist healthcare funder MVM Partners, which gave it a significant minority stake in eXmoor.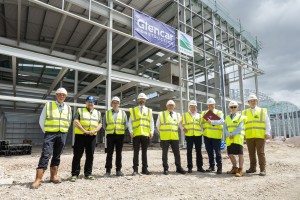 The 6,000 sq m centre, on the Patchway Trading Estate, will house eXmoor's Process Development (PD) and Good Manufacturing Practice (GMP) operations.
Scheduled to be fully operational for manufacturing by summer next year, it will help grow the firm's workforce from 62 to around 200, along with the transatlantic expansion.
Founded in 2004, eXmoor has grown into a globally recognised leader in its field and has completed more than 400 projects across 15 countries.
Its team based at the Future Space science hub on UWE's Frenchay campus, works closely with clients to help them commercialise their research processes, developing fully licensed facilities, and providing QP (qualified person) services.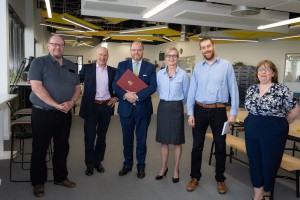 The firm has won repeat business from nearly two thirds of its clients since its launch. 
eXmoor CEO Angela Osborne got the chance to discuss the firm's growth with science, research and innovation minister George Freeman when he visited the site, pictured top.
She said: "We're focused on accelerating the manufacturing journey from research to patients for our clients, to treat some of the world's major healthcare issues.
"To do that, we need to encourage new talent into the industry, have the right landscape for research and development, and be assured that government policy supports this.
"Ultimately, the UK economy needs to establish a thriving advanced manufacturing footprint in this and similar industries across the country."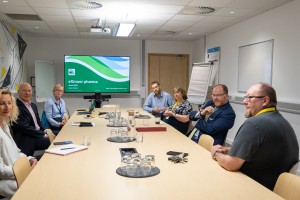 During his visit Mr Freeman also chaired a networking lunch, pictured above and right, with Teresina Pinnington, head of business development, cellular and molecular therapies, and Jon Smythe, head of function, from Filton-based NHS Blood & Transplant; Prof Moin Saleem, founder and CSO of London-based Purespring Therapeutics, which is pioneering gene therapy focused on transforming the treatment of kidney diseases; South Gloucestershire Council leader Toby Savage; and Antony Merritt, West of England Combined Authority head of enterprise, inward investment and trade.