Four of the six floors of Bristol's newest office building have already been pre-let – with the architecture firm that designed it among the first occupiers.
Construction work recently finished on One Portwall Square, pictured, with developer Nord saying it sets a new standard for the city's office market by focusing on occupier amenity and wellbeing while also minimising energy consumption and carbon emissions.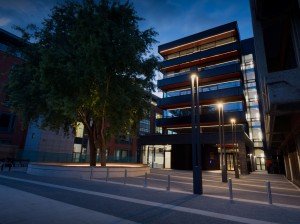 The building, next to Bristol City Council's 100 Temple Street office, will bring 33,750 sq ft of grade A office space to the city, along with a large, landscaped square.
But the strength of Bristol's office market – which has recovered from the pandemic faster than almost all other large UK cities – means two-thirds of it has already been pre-let.
The first two occupiers will be Stirling Prize-winning architects Allford Hall Monaghan Morris (AHMM) – which will relocate its Bristol base to two floors in a move that doubles its studio space – and international intellectual property specialist law firm Haseltine Lake Kempner, which is taking the top two floors for its Bristol head office.
AHMM, which currently has its Bristol base in Queen Charlotte St and also has offices in London and Oklahoma City, was part of the team behind One Portwall Square, along with construction group Skanska, global professional services consultancy Arup and structural and civil engineering practice Elliott Wood.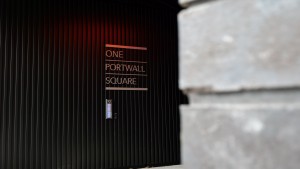 One Portwall Square is the first office building in Bristol to incorporate concrete core cooling, a highly innovative means of cooling internal spaces passively through the use of pipes embedded in the concrete slabs.
Chilled water flows through these pipes, cooling the exposed concrete and creating pleasant and comfortable conditions for office occupants.
The high thermal mass of concrete means even with large temperature swings outside, the inside room temperature is stable.
The mixed mode ventilation system intelligently monitors external conditions so that when the outside weather is suitable, the mechanical ventilation shuts down and the building can operate in 'free running mode' with open windows bringing fresh air into the building, saving energy.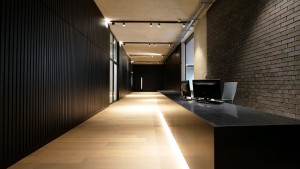 On very warm or very cool days, the traffic lights on the floors will indicate that windows should be closed and the heating and cooling systems, which only utilise fresh air, then operate.
The scheme also incorporates a high-performance building fabric and smart design to reduce the building's energy demands.
Additionally, it connects into Bristol's pioneering heat network, which utilises low and zero carbon technologies to provide heat and hot water.
Nord said as well as its sustainability features, One Portwall Square has been designed to exceed the requirements of its occupiers concerning staff wellbeing.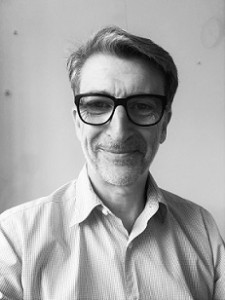 Large private terraces on all upper floors and the square itself, with two retained silver maple trees, provide access to outdoor space, fresh air and "a place to pause", the developer said.
Fobbed and automated doors provide tenants with a secure, touchless journey around the building while sensor taps and flushes minimise touch points.
An accessible and visible concrete staircase encourages stair use and Active Score Platinum-accredited cycling, changing and shower facilities encourage active travel to and within the office.
Nord founder Richard Jones, pictured, said: "We are thrilled to be able to open One Portwall Square's doors and showcase all that this unique, vibrant office has to offer.
"As a responsible developer Nord was committed to designing and delivering a highly sustainable, efficient new commercial building and we've done exactly that.
"We look forward to welcoming AHMM and Haseltine Lake Kempner to their new home. Their lettings are a great endorsement of Nord's product and vision for what a modern office should be."
AHMM managing director Peter Morris added: "As the architect of One Portwall Square, we're delighted and proud to have reached one of the last crucial milestones in its completion, and as a practice and tenant we're excited to be so close to moving into our new Bristol home.
"Designing the building has been an opportunity not just to create a place we and our fellow tenants will enjoy working in, but to help set a new benchmark for the workplace in Bristol."
Haseltine Lake Kempner chief executive Graham Lambert described to its new base as an "inspiring, and vibrant office space".
"The innovations and sustainability designed into One Portwall Square resonate with our mission to support the innovators in society, protecting their intellectual property and thereby helping to drive further progress," he added.
"The office concept is very much in line with our ethos of being a progressive and dynamic employer with a real focus on our people's wellbeing, and with a collaborative and supportive working environment allowing colleagues to flourish and deliver the best service to our clients."
AHMM is not the only Bristol architecture firm to relocate to an office it has designed in recent years.
AWW, which has been responsible for some of the city's highest-profile modern buildings, moved its studio to Pivot + Mark, the office conversion scheme on the corner of Baldwin Street and Queen Charlotte Street, after working on the project.