Bristol-based SACO (The Serviced Apartment Company) is to undertake a brand development programme to mark the next stage in its ambitious growth plans.
The firm, is one of the world's leading serviced apartment providers, has appointed Bath branding agency The House following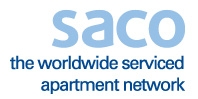 a five-way agency chemistry and brand process review handled by Design Partnership.
The House brand director Jayne Mansfield and creative director Steve Fuller will lead the programme, working closely with SACO marketing director Jo Redman.
Jo said The House was selected because "out of all the agencies we felt they had the best experience and demonstrated a good understanding of our requirements".
An initial recommendation from Caroline Harris, boss of SACO's Bristol PR agency Spirit, also counted.
"Throughout the process The House has come across very well as a team and been receptive to feedback," added Jo. "We believe that The House is a good fit for our business."
The research element of the programme has commenced with conclusions and a board presentation likely later this month.
Steve Fuller said: "We're delighted to be working with SACO. A number of the team at The House have a travel background so it's exciting to be able to put our brand skills to a sector that we really believe in."
The House helps clients to identify business opportunities and creates the tools needed to grow – a crystal clear and inspiring vision, shared values, a dynamic market position and a believable brand promise, all anchored by a robust business plan.