The bid to persuade Channel 4 to open its new headquarters in Bristol was officially submitted today as research revealed the city is a frontrunner in the race.
Bristol's bid is accompanied by a short film and brochure focussing on the city's diversity and reputation for being unorthodox and rebellious as well as its rich cultural heritage and established creative industry.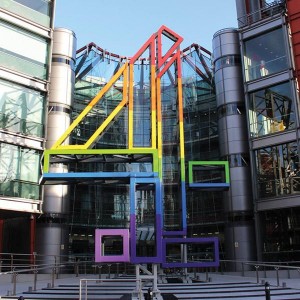 The bid has strong backing in the city from the council, MPs and key figures in its creative sector, some of whom gathered this afternoon at City Hall to hear an update on progress and look at next steps.
They believe Bristol best meets the criteria set by Channel 4 – and that its dynamic and diverse creative and cultural sectors give it the edge over rival cities such as Birmingham and Leeds.
Channel 4 has stipulated that its three key criteria are "a working population of more than 200,000, a travel time to London of up to three hours and a high level of physical and digital connectivity/infrastructure" – all of which Bristol meets.
Bristol Mayor Marvin Rees met Channel 4 chief executive Alex Mahon last month to press the case for the city.
In his introduction to the official bid document, Mayor Rees says: "Bristol is the city of diversity where we champion the fact that we experience the same raw material of urban life in very different ways. It's in this we find the city's true wealth: its culture of creativity, unorthodoxy, innovation, questioning and restlessness. It's this culture that's resulted in Aardman Animations, the Natural History Unit, Martin Parr, Banksy, Helen Dunmore, Massive Attack and Paul Stephenson.
"Every city will offer a nice building in a nice location with the best digital connection they can provide. That can be taken as read and Bristol will do the same.
"But my belief is that in Bristol, Channel 4 will find a city with whom it shares values and a group of people it wants to work with."
According to leading UK planning and design consultancy Barton Willmore, Bristol is a frontrunner in the hotly contested race to secure the broadcaster.
Channel 4 has pledged to move some 300 staff to a new headquarters outside of London by 2019 in a bold move to improve its regional presence and profile.
Around a dozen of the UK's biggest cities, including Bristol, are pitching their credentials to become the hub. 
Researchers from Barton Willmore's development economics team analysed the suitability of each of the contending cities in England, Scotland and Wales across four key areas. These include having: a large, qualified labour force; decent housing affordability and quality of life; an established creative media industry and strong university links.
Bristol, along with Glasgow and Leeds, was ranked in the top five in the majority of these categories and, according to Barton Willmore, should be "considered frontrunners for the new HQ" ahead of more established favourites such as Birmingham.
Barton Willmore economics research associate Morgan Reece said: "This is a huge opportunity for a city to benefit from one of the biggest names in UK broadcasting," said "The new regional hub is set to spawn a thriving media ecosystem, with Channel 4 already committing to spending half of its total £700m annual programme budget with TV companies outside of London by 2023.
"Much like Amazon's recent search for a second North American headquarters, Channel 4 will need to take a highly methodical and objective approach to selecting a new base – though the limited fiscal powers of UK local authorities mean we are unlikely to see an incentive package arms race as was the case with the Amazon completion.
"Channel 4's selection criteria will very much be based on each city's individual merit – and the four categories we selected will undoubtedly be critical in any future decision making. We used objective data sources to allow us to rank each emerging candidate city, with Bristol scoring highly across each category."
Barton Willmore Bristol partner Simon Prescott welcomed the research. He said: "This confirms what we already know and what Mayor Rees has long been championing – that Bristol is a vibrant area that is the fastest-growing city in the UK. At the same time it's in a truly enviable position as the UK's number one smart city, playing a fundamental role in the South West powerhouse.  
"The city itself houses the third largest media hub in the country with already an established media presence and qualified workforce. For decades the area been lauded for the quality programming produced by the BBC's Natural History Unit, Wallace & Gromit maker Aardman Animations, the Bottle Yard Studios and ITV West Country among others who are all based here.  
"Not only would the creative and diverse city of Bristol be the perfect fit for the boundary-pushing and innovation that Channel 4 has become famed for, but I also feel that the catalyst for social change, risk-taking and inspiring Channel 4 would be the perfect fit for Bristol."
A 2015 KPMG report commissioned by the BBC found that the BBC's North West activities – including those from Salford – following the opening of a new office 2012, generated the equivalent to approximately 5% of the area's GVA or financial contribution to the local economy.
Cities making Channel 4's shortlist will be notified on May 30 and later visited by Channel 4 chiefs and their consultants working on the relocation to allow them to provide further information.
The final decision will be announced on October 1.