A direct luxury coach service to Bristol Airport from Swansea, Cardiff and Newport is to be launched in March as part of a wider marketing plan to attract more passengers from South Wales.
The service, run by Greyhound – part of the giant First transport group – already operates between Swansea and Cardiff. From March 11 it will be extended to the airport. It will be Greyhound's first service in the West of England.
First brought the iconic American Greyhound brand to the UK four years ago, using it to rebrand the Swansea – Cardiff Shuttle a year later. It offers passengers increased leg room of 22 inches and free on-board w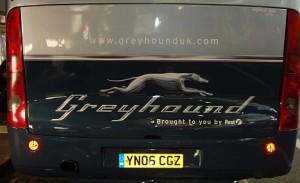 i-fi.
Greyhound has worked closely with Bristol Airport on the service, which will be hourly between Swansea and the airport during the week and two-hourly at weekends. It will operate as a limited stop service, calling at Cardiff Bus Station, Newport Railway Station, UWE (Frenchay Campus), Bristol Bus Station and Bristol Airport in addition to its current route between Swansea and Cardiff.
Journey times from Swansea to the airport will be 2 hours and 45 minutes off peak (3 hours during the morning peak period). From Cardiff the journey will take 1 hour and 40 minutes.
The coaches will drop off at the terminal forecourt, close to the check-in hall.
Regional commercial and business growth director for First in the South West and Wales, Marc Reddy, said: "The extension of this service is significant. We believe there is real potential for growth here, both from people in Wales who want to be able to access Bristol city centre and Bristol Airport more easily, but also from people and businesses in North Bristol, who for instance will benefit from a direct coach link from the UWE Frenchay Campus to Bristol Airport.
"We anticipate the news will be particularly welcomed by those at UWE, the MOD site in Abbey Wood and at Airbus and Rolls Royce, who will no doubt find the new service useful. We believe that the new service will also compliment the existing Airport Flyer service, which we operate on behalf of the airport, giving people additional choices over how they get to and from the airport."
Airport Chief Executive Officer Robert Sinclair added: "We are delighted First has taken this step to enhance connectivity for people and businesses in Wales. This is an exciting new addition to the public transport options available for passengers in an important part of our catchment area."
Tickets will be from £10 and available to book in advance via the Greyhound UK website (www.greyhounduk.com) from January 28.