Inductosense, the Bristol scale-up specialising in ultrasonic non-destructive testing, is heading for more growth after becoming the first firm to 'graduate' from the city's pioneering Unit DX biotech hub.
The firm, which has secured investment of more than £2m, this year has relocated to a nearby 5,000 sq ft base, which will allow it to increase its research and production capacities.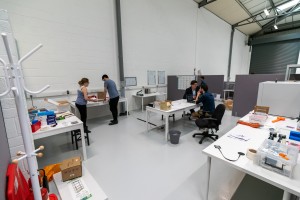 Inductosense's technology was first developed at the University of Bristol, before spinning out in late 2015 with the support of the SETsquared ICURe programme.
At the beginning last year Unit DX offered the company custom laboratory space and expert support at its site near Temple Meads in a move that facilitated its growth. As a result, it more than doubled in size in 20 months.
Inductosense CEO Dr Matt Butcher said: "Our story is a fantastic example of Bristol's flourishing scientific start-up scene. We've benefited from the support of the city's world-class incubators and dynamic community of scientists and entrepreneurs. Our new site enables us to continue to grow and we have some exciting opportunities in the pipeline."
Inductosense develops novel battery-free wireless sensors to detect non-visible damage to structures such as pipes in the oil and gas, nuclear, and renewables industries.
Its platform technology is compact and can be easily and permanently integrated into a structure, allowing for monitoring throughout its lifetime. The sensors reduce the time, cost and human error associated with conventional inspection techniques.
Since opening just over two years ago, Unit DX has played a key role in the growth of scientific enterprise in Bristol.
It was set up by the founders of another start-up, Ziylo, after recognising that there was no home for science companies in Bristol.
Unit DX brings together specialist facilities with science-focused business support and has been instrumental in retaining Bristol's world-class scientific talent and research. The majority of companies at the incubator have a focus on bio-design and quantum technologies.
Unit DX is creating a new community by working with local schools to get them interested in science; by championing entrepreneurship at universities; and by directly supporting and housing early-stage science companies.
After benefitting from being allowed to grow and develop at Unit DX, Ziylo is the first major success story to come out of the incubator.