Directors and managers can gain tips on some of the most-common challenges of running a business through a new range of electronic booklets available for download on the new-look website of M4 corridor law firm Thrings.
The booklets, written by commercial lawyers at the firm, which has an office in Bristol, shed light on some of the legislation and regulation that impacts on businesses.
The Thrings site also includes an ask-the-team button so that visitors who cannot find the information they need in the booklets can type in a question directly and have it answered by a lawyer.
Subjects covered by the e-booklets are:
10 top tips for conducting potentially difficult meetings with employees
20 mistakes that could land directors behind bars under the Bribery Act
8 top tips when responding to enforcement action taken by local planning authorities
12 things to consider when negotiating a new lease
Thrings managing partner Simon Holdsworth, pictured, said that when the firm looked at refreshing its website, the partners spotted the opportunity to add value by providing tips and facts that they could use in their businesses.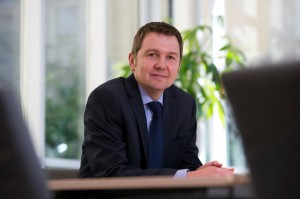 "Most business owners and directors are concerned that the increasing amount of legislation and regulation puts a huge burden on their time and resources and also leaves them more and more open to falling foul of the law," he said.
"This online resource is not a substitute for legal advice, obviously, but there are some basic do's and don'ts around leases, planning, employment and, of course, the Bribery Act, which every managing director and board should at least be aware of.
"We hope that the combination of the tips booklets and the facility to ask a member of the appropriate team a question online will help reassure visitors, and prevent them from making mistakes which could be potentially irretrievable."
Thrings' digital marketing manager Amy Hart said the firm based its website changes on feedback from clients.
"We've listened carefully to what clients have said they want from the site and used a state-of-the-art responsive design so that they can see the pages perfectly on a laptop, tablet or desktop PC," she said.
"People work very much on the move these days and it's important that we make it as easy as possible for them to access all the information they need from the firm, wherever they are."
As well as Bristol, Thrings has offices in Bath, London, Swindon and Reading