Warmley brewer Bath Ales, best known for its range of award-winning beers, has produced its first spirit – in a limited edition of just 100 bottles.
Gem Aqua Vitae, a 42% vol single malt spirit, has been made using wort from Bath Ales' brewery. Wort is the liquid produced when barley is 'mashed' by adding hot water at the start of the brewing process.
The wort was sent to the English Spirit Distillery, a Cambridgeshire-based business that makes small-batch spirits, where it was distilled five times in copper pots under the watchful eye of master whisky makers.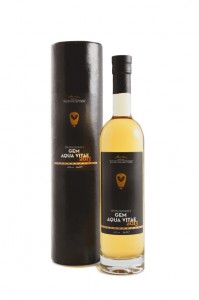 Bath Ales executive chairman Roger Jones said: "We launched the Sulis Collection – our range of premium whisky beers – at Christmas time last year and they were very well received. This year we wanted to take things one step further and create our first ever spirit.
"We're very proud of the finished result as we feel this is something very special indeed. With the launch of Beerd brewery last year – our experimental craft beer brewery – and now this, we're leading the field in innovation and aim to keep surprising and delighting our customers."
Bath Ales describes Gem Aqua Vitae as "a great aperitif or night cap: smooth and light with flavours of clove, liquorice and vanilla, an aroma of honeysuckle and silk-coated finish". It is strongest product Bath Ales has ever sold.
The spirit is a limited edition with just over 100 bottles for sale. It is sold in 50cl bottles retailing at £39, available in the Bath Ales brewery shop.
Bath Ales, an independent brewery established in 1995, combines traditional brewing techniques with cutting-edge technology. It produces just over 20,000 brewer's barrels annually and has had its own bottling plant since 2007. Its beers include its flagship Gem bitter as well as Barnsey, Dark Side, Wild Hare, Special Pale Ale and Ginger Hare.
It also operates 12 bars, pubs and restaurants around Bristol and Bath as well as its Beerd craft brewery in Bristol and pop-up bars.