Bristol's SETsquared technology accelerator has launched a bursary to help entrepreneurs from diverse backgrounds access its world-beating business support.
The scheme follows a SETsquared Bristol-funded research report last year that showed that while Bristol is a widely diverse city, there is a lack of black, Asian and minority ethnic (BAME) representation in its tech ecosystem. 

The report, produced in partnership with partners ACH (Ashley Community Housing) and Up Our Street, gave key recommendations on how to offer support to businesses in under-represented communities.
As a result, three 'Breakthrough Bursary' places are on offer for up to one year, covering 75% of SETsquared Bristol's residential start-up membership in the city's Engine Shed enterprise hub, which costs £210 a month.
Members receive strategic advice and coaching, including investment readiness training, bespoke business support, mentoring, events and advice clinics, as well as access to university expertise. Companies also get a fixed desk in a shared office at the Bristol centre, benefitting from the supportive co-working communities at SETsquared and Engine Shed.
Black South West Network director Sado Jirde, pictured, welcomed the scheme. "We are encouraged by an approach that is rooted in research with BAME tech entrepreneurs; an approach that facilitates their voices in directly influencing decision-making," she said.
"There is, undeniably, a long way to go before we achieve a fully equitable economic and social context for BAME communities in Bristol. However, this bursary marks a step-change in the way the problem is engaged with by key players in enterprise incubation and development here.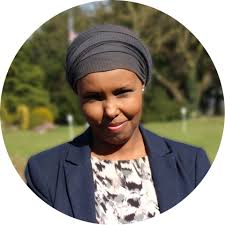 "BSWN looks forward to seeing this initiative flourish and be a catalyst for further changes; changes that we will continue to work in partnership with SETsquared to see realised."
Any business founders from BAME backgrounds can apply for a Breakthrough Bursary if they are developing a new tech business, or already have an incorporated tech business, and want help growing it and achieving financial success.
SETsquared Bristol centre director Monika Radclyffe added: "We are committed to supporting tech businesses from all backgrounds and communities, in order for our region to thrive economically. Last year, the number of female founders in the incubator increased by 333%, and we hope to see similar growth in ethnic diversity."
SETsquared Bristol has been working to implement further recommendations from the research report, including a marketing audit, running workshops in community venues to engage with wider audiences, and implementing training for staff and business founders.
Silas Adekunle, CEO of successful SETsquared Bristol incubate Reach Robotics said: "SETsquared was integral to the start of Reach Robotics. Start-ups aren't born in isolation – incubators provide the support, connections, and guidance that are absolutely invaluable to getting a tech business off the ground. SETsquared also opened the door to a fantastic community of businesses that we are proud to be part of."
Reach Robotics fuse robotics, video games and AR (augmented reality), creating four-legged crab-like robots. It was founded in Bristol in 2013 and has already secured $7.5m in funding. Its flagship product, MekaMon, has propelled them to the forefront of consumer robotics.
The Breakthrough Bursary was officially launched at SETsquared Bristol's regular Connect event, sponsored by Amdaris, which brings together members, investors, stakeholders, and other figures from Bristol's tech scene to mingle and build new connections.
SETsquared will be reviewing applications as they come through and inviting applicants for interviews throughout March, April and May. The deadline for applications is 6pm on May 6 and selected applicants will be contacted for interviews by May 10. Decision on the Bursary awards will be made by the end of May. To apply, please complete this application form mentioning 'Breakthrough Bursary' in the 'How did you hear about us?' section.