Bristol creative agency Workbrands has launched a new brand identity for the Property Academy to replace its national awards scheme.
The Best Estate Agent Guide 2018 is run in partnership with Rightmove and takes the place of the Sunday Times Estate/Letting Agency of the Year Awards, which have been the industry's most highly sought-after and prestigious awards for the past 15 years.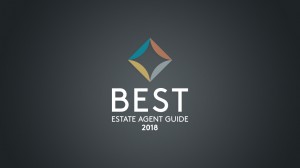 It revolutionises the process by which accolades in the property sector are bestowed by moving to a 'whole of market' approach that assesses all estate and letting agents in the UK to determine which are the best – rather than assessing the small percentage of agents that actively engage with awards by submitting entries.
The Property Academy approached Workbrands, whose blue-chip clients include Andrews & Partners, Openfield, Western Power Distribution and Zurich, to help create a strong, stand-alone brand that would be instantly recognisable as a mark of excellency by consumers and property professionals.
Agents listed in the Best Estate Agent Guide will be ranked as either Exceptional, Excellent or Highly Rated. Workbrands developed a mark that embodies the credible and objective nature of the new brand and would also translate across the three levels of accreditation.
The logos will appear on accredited estate agency marketing materials, Rightmove property details pages and on- and offline advertising.
Account manager Sarah Wilmott said: "Our experience in the property sector and collaborative relationship with the Property Academy really helped drive the brand creative forward. We're delighted with what we've produced and it was an absolute pleasure working on this project."
Workbrands is a multi-disciplinary brand communications agency specialising in high-quality branding, brand management and creative marketing communications.
Following a successful 2016, the agency was listed in The Top 100 by Design Week, and has achieved RAR recommended status until 2018 from The Drum.
It employs 15 people at its base in Bedminster.