An eco-friendly gas and heating maintenance service has harnessed the power of electric cargo bikes for its launch in Bristol.
Nippychecks has a team of engineers who will use the bikes to properties across the city to maintain boilers, central heating and electrical systems and appliances.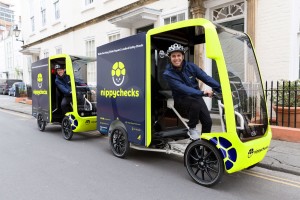 The business will operate out of premises in Easton, serving homeowners as well as helping maintain the portfolios of city landlords and lettings agents.
Nippychecks has been launched by established West Country Heating and Plumbing (WCHP), based in Cambridge, South Gloucestershire, following a £24,000 investment in two new cargo bikes.
With a range of 40 miles and a top speed of 15mph, the bikes are cycle lane permitted and can carry up to 150kg – easily enough for a toolbox and spare boiler parts.
Nippychecks and WCHP managing director Sam Blakeney, pictured above, said the new business was following in the tyre tracks of similar services already offered in the city.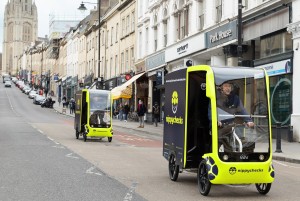 "There's no reason why nippychecks can't do for plumbing and heating what Deliveroo has done for food," he said.
"Nippychecks solves a number of problems – it does its bit to cut congestion and improve air quality in the city, it provides a service free from the constraints of traffic problems and it's cost-effective and ethical too.
"We've often thought that using a half-empty van to splutter its way around the city didn't really make sense for anyone. In nippychecks, we think we've found an answer."
The cargo bikes, which were brought from Oxfordshire-based EAV, are made from recyclable and sustainably sourced materials.
EAV head of partnerships Leo Bethell said: "We're delighted to be providing two of our lightweight urban vehicles to nippychecks and of course we're excited to see them making an impact in Bristol.
"Cargo bikes help businesses complete more services and deliveries in a shorter amount of time by accessing cycle lanes and pedestrian routes, while actively reducing congestion in urban environments.
"They're safe, practical, zero emissions and eco-friendly, so we believe they're going to play a big role in improving air quality and saving business – and their customers – time and money as well as making the centre of Bristol a better place to be."
Sam added: "We love this city and want to be part of its sustainable and cycling identity.
"While we've got a challenge establish nippychecks as part of the property scene, once we're really up and running then I'm hoping to add more vehicles to the fleet before too long."
The firm has set up a portal through which landlords and lettings agents can safely store and access all of their certifications while its tracker app will let users who have made a call-out check the Nippy bike's location and progress.