The rats in Bristol Zoo's popular Twilight World attraction like nothing better than getting their teeth into a good book – and now a special delivery from bookseller Bookbarn International is giving them plenty to chew on.
The black and brown rodents tear the books to pieces, chew the pages and then use the paper for nesting material. According to the zoo, they can devour a chunky 300-page novel in a matter of a few days.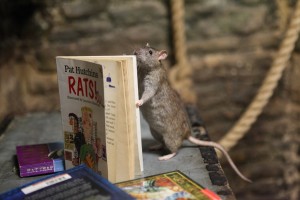 With such hungry paperback biters, the zoo was running out of reading material for its rats until Bookbarn International, based at Hallatrow, near Temple Cloud, heard about their plight.
Bookbarn, one of the largest booksellers in the UK, has been shipping orders from its giant warehouse to customers all over the world since it re-launched in 2013. Staff there are now rooting through their surplus bins to help supply the zoo's exhibit.
Bookbarn International chief executive Fenna Leake said: "Apparently the zoo's resident rats get through hundreds of books every year – and they have been scouring the city for replacements. We jumped at the chance to help.
"We get all sorts of books from valuable first editions and signed copies for our Darwin Room to general fiction which is great for our shop. But in among our deliveries there are many books which we don't feel we can pass on to our customers – and these are the ones we have selected to help the zoo out."
Bristol Zoo Gardens curator John Partridge added: "It may sound surprising, but rats really do love books and this is a very welcome gesture by Bookbarn International. Having a regular supply of book for our colonies of rats will make a real difference."