Ellen Green, the managing director of Bristol-based independent lifestyle products firm Blue Badge Co, has been named as one of 12 most inspirational women in the UK retail sector.
Ellen, pictured, who has grown Blue Badge Co from a company run from a friend's bedroom to a £500,000-turnover business, was selected alongside leading figures from major national retailers such as Tesco, Amazon and Argos to become a Worldpay everywoman in Retail Ambassador for 2017.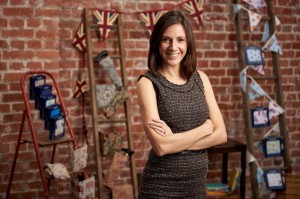 Each year the programme choses a dozen women from across the UK as 'everywoman ambassadors' to encourage more women to aim for the top jobs in the retail industry.
While women account for 60% of the 2.8m retail employees in the UK, only three of the 24 retail companies listed on the FTSE 100 have a female chief executive and just 10% of executive roles are held by women.
This year's ambassadors range from founders of fast-growing global brands to women reshaping operations at some of the country's largest retailers as well as individuals who are driving change through their organisation on mental health.
Ellen was chosen for her commitment to changing perceptions of disability through the success of Blue Badge Co.
The firm is among the first to have identified the growing demand for stylish, design-led independent lifestyle products and travel aids, with disabled consumers now making up a fifth of the UK population – nearly 12m people, up from 10m a decade ago– who, with their households, have a spending power of more than £200bn.
Ellen said: "I'm really proud to be named an everywoman retail ambassador alongside all these amazing women. This is recognition of the hard work and commitment of all of the team at Blue Badge Co who have made the business a success.
"We want to see disability products sold as part of the mainstream and no longer side-lined or considered niche – we feel this is symbolic of how society views disability as a whole."
With the over 50s, who control over 75 per cent of household wealth, likely to make up more than half of the population by 2030, Blue Badge Co's success reflects the rise of the 'purple pound' – the growing spending power of disabled people.
Having grown turnover by 50% three years in a row, the six-year-old company recently doubled the size of its workshop and now supplies its products to Argos, Boots, Lloyds Pharmacy, Halfords and the Post Office.
Its workforce of 15 permanent staff, with a handful of regular freelancers, hand craft all Blue Badge Co products on site at its Easton base.
Around 40% of its workforce are disabled or are primary care givers, meaning the team has a first-hand appreciation of disabilities from mental health issues to physical impairments.
Blue Badge Co was launched in 2011 by a designer who was fed up with what she saw as the universally dull, clinical products available to disabled consumers.
She enlisted the help of friend, Ellen, and sitting in the bedroom of her small house in Bristol, the pair started hand-stitching hundreds of eye-catching Blue Badge display wallets. Ellen took over the business as a sole director in 2013.
Blue Badge Co has since sold more than 190,000 of the wallets across the UK and expanded to produce a range of independent lifestyle products with designs inspired by William Morris, Roald Dahl and Emma Bridgewater.
The company's big breakthrough came in 2013 when a Boots buyer spotted its products at a trade exhibition and placed an order for 10,000 wallets – dwarfing the 8,000 the company had made in its previous two years. Blue Badge Co now supplies 2,500 Boots stores nationwide.
In August 2015 Ellen appeared on BBC Two's Dragon's Den where her 10-minute appearance on the show triggered two months' worth of orders in just 24 hours.