Bristol aerospace giants Airbus and GKN could face disruption to production schedules after airline Emirates cancelled an order for 70 of Airbus's new A350 mid-range aircraft.
The move, which followed a review of its fleet by the Gulf airline, has dealt an unexpected blow to Airbus and its A350 programme just months before the all-new plane is due to make its first commercial flight. It is Airbus's biggest-ever order cancellation.
The A350's pioneering wings, made from innovative lightweight composite material, were designed by engineers based at Airbus's giant Filton plant. GKN Aerospace makes large sections of its wings at its new plant at Avonmouth.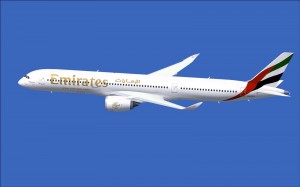 The Emirates order represented 9% of the total for the twin-engined A350, which has been eight years in development and is Airbus's biggest project since the launch of the A380 superjumbo. Emirates was the programme's second-largest customer.
The deal was worth around $16bn (£9.5bn) at list prices in 2007 when it was signed – although Emirates would have received a sizeable discount as one of the A350's first customers.
Airbus this morning played down the impact of the cancellation on its forward order book, pointing out that production of the aircraft was not scheduled to begin until the end of the decade and any shortfall was likely to be made up for through new orders. The first of Emirates A350s was not due to be delivered until 2019.
It also said arch-rival Boeing of the US had suffered more cancellations of its all-new aircraft the 777.
The Reuters news agency quoted Airbus sales chief John Leahy as saying: "It is not good news commercially but not bad news financially. There is certainly going to be no hole in production."
Emirates placed the order – made up of 50 A350-900s and 20 larger A350-1000s – a year before GKN acquired Airbus's manufacturing interests at Filton for £100m. The deal brought with it a contract to build wing parts for the A350 and GKN has since opened a dedicated plant for these at Severnside.
The plant makes the 27m-long rear wing spars for the A350 in three sections using innovative, light-weight composite material. They form the structural heart of the wing's fixed trailing edge, holding vital parts such as the main landing gear.
Sales to Airbus represent approximately 20% of GKN Aerospace's total annual turnover of £2.2bn. Work on wing sections for the A350 programme are worth around £900,000 per aircraft to GKN.
The cancellation will also hit UK engineering giant Rolls-Royce which makes the Trent XWB engine for the A350 at its Derby plant. It said the move would wipe £2.6bn off its order book. Very few parts for the engines are made at Rolls-Royce's Bristol plant, which specialises in military aircraft engines. .
Airbus employs around 4,000 people at its Filton site, mostly working in engineering and support roles. Following today's decision by Emirates, Airbus' s order book for the A350 now stands at 742 – around half its unofficial target for the programme.
As well as its innovative composite wing parts, the aircraft also has an all-new carbon fibre reinforced plastic fuselage resulting in lower fuel consumption, as well as easier maintenance. The three versions of the aircraft will seat between 250 and 440 passengers.
The first A350 is due to be delivered to Qatar Airways towards the end of this year. Emirates has 140 A380s on order having increased this figure by 50 last November.
Pictured above: A computer-generated image of an Airbus A350-1000 in Emirates livery