Work to transform Bristol's former Blackberry Hill Hospital has come a step closer this week after plans were approved for a high-quality development with new and affordable homes on the site.
Developer Galliford Try Partnerships and the Homes and Communities Agency (HCA) propose to regenerate the vacant buildings at Blackberry Hill Hospital and create 346 high-quality new and affordable homes along with retail and start-up business units, community buildings and green spaces.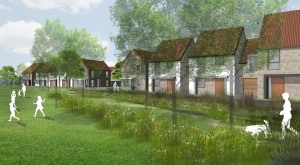 The decision by Bristol City Council's development control committee also unlocks the prospect of funding from the HCA and the local authority to help deliver 100 affordable homes on the site.
Galliford Try Partnerships will provide a discount to the value of the homes to enable the affordable housing to be delivered.
Galliford Try Partnerships' regional director Jon Young said: "The approval of this scheme follows months of work by Galliford Try Partnerships, the HCA and Bristol City Council to find a way to deliver the development that everyone agrees is needed at Blackberry Hill.
"This decision helps deliver an exemplary and high-quality development in Bristol, which brings investment and employment opportunities with it.
"We're looking forward to starting work on site and can't wait to see the first homes ready for people to move into next year." 
HCA general manager Kevin Bourner added: "This is great news for people who live in the area, who we know want to see this site transformed.
"We have consulted extensively on the vision for Blackberry Hill and our proposals reflect the essence of what the community has asked for.
 "With the additional affordable homes provided at Blackberry Hill, we believe we can deliver something that the community can be proud of that also meets local housing and economic ambitions."
Bristol City Council is looking to support affordable homes at Blackberry Hill by providing grant funding into the scheme – part of a council-led programme of financing overseen by its Cabinet Member for Housing, Cllr Paul Smith.
He said: "We have committed £220m to provide affordable housing in Bristol and we are working with developers to ensure that the impact of this investment is maximised.

"This is one of the key projects for Bristol and we recognise the challenges posed by developing this heritage site. We also welcome partners' willingness to find a way that enables additional affordable homes to be delivered.
"I look forward to seeing people moving into their new homes Blackberry Hill."
Galliford Try Partnerships has a strong track record of delivering affordable homes across England. It has recently successfully bid to the HCA's Shared Ownership and Affordable Homes Programme to support the delivery of an additional 530 homes on sites across the country, including 36 additional affordable homes at Marksbury Road in Bedminster.