The £13.5m expansion of Bristol's highly successful film and television studio complex The Bottle Yard has received its first booking – an eight-part TV series based on Jilly Coopers' best-selling novel Rivals.
The high-profile production, to be made by The Disney+ by Happy Prince, part of ITV Studios, was announced last night at the official opening of the premium facility, called TBY2.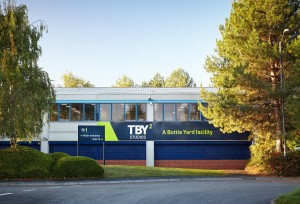 TBY2's three state-of-the-art sound stages are accompanied by more than 40,000 sq ft of ancillary space comprising production offices, prop stores, costume/makeup and break out areas, amounting to around 82,000 sq ft of converted floor space in total.
The site, less than half a mile from the main Bottle Yard Studios, aims to build on the success of that complex.
Owned and run by Bristol City Council, The Bottle Yard Studios in Hengrove opened in 2010 on the site of a disused wine warehouse.
Since then its eight stages have accommodated more than 70 film and TV productions, ranging from Wolf Hall (BBC Two) and McDonald & Dodds (ITV) to, most recently, Am I Being Unreasonable? (BBC) and The Outlaws (BBC/Amazon).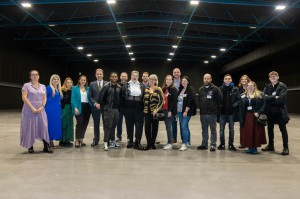 The largest dedicated film and television production facility in the West of England, it has also become a major hub for the burgeoning industry, with more than 20 specialist companies ranging from prop and costume suppliers to chauffeuring businesses.
In September award-winning Killing Eve producers Sid Gentle Films opened a new development and production arm Sid Wild based at the studios. The company joins a creative hub of based at the Studios
Last night's official opening brought together leading UK film and high-end TV producers, Bristol-based crew and companies and regional and national partners along with supporters of the studios' expansion.
Mayor of Bristol Marvin Rees said: "The Bottle Yard Studios, our Hollywood in Hengrove, continues to go from strength-to-strength. Filming in Bristol is booming – testament to Channel 4's decision to relocate to our city in 2018.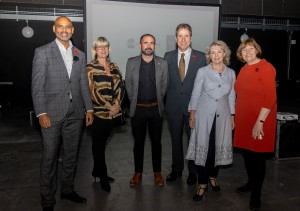 "This year, the sector contributed almost £21m to our economy. New productions by Disney+ and other major streamers and commissioners will only bolster our global growth.
"Shows like The Outlaws have looked and sounded like Bristol and TBY2 will help us punch above our weight in film and TV.
"I'm proud to have secured the funding for this state-of-the-art expansion during my first term as mayor, delivering another 1,000 jobs for Bristolians. Thanks to City Leap and the community-owned solar panels on TBY2's roof, this will surely be one of the greenest places to film anywhere in the world."
Metro Mayor Dan Norris, who heads the West of England Combined Authority (WECA), added: "I've watched this expansion come alive, from a cold and empty space to the fully functioning facility we see today. I'm incredibly proud that this is down to £12m of investment from WECA.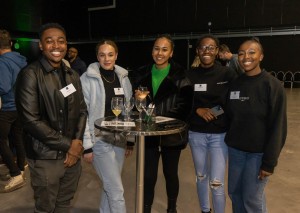 "Creativity runs through our region's veins, and we are fortunate to have truly world-leading people working locally in our creative industries. With Netflix, Channel 4, the BBC and more, making shows like Bridgerton, The Outlaws, Tracey Beaker and natural history gems here in the West we have an exciting story to tell.
"Now the improved Bottle Yard Studios with three brand-new stages means we can continue to build on these successes to create even more top-notch film and television and bring thousands of highly skilled jobs to our region.
"Today's official opening sends a strong message nationally and internationally that our amazing West of England is open for business. So please come here and invest.
"I look forward to watching as more films and TV hit the screens that were made in our amazing West of England region."
Pictured, top: TBY2's signage. Centre, top: The Bottle Yard team with Metro Mayor Dan Norris, Gamba Cole and Jayde Adams and guests. Centre: Marvin Rees, Laura Aviles, Craig Cheney, Dan Norris, Karin Smyth MP and Helen Holland. Above: Gamba Cole with Stacey Olika (Channel 4), Asiya Sutton (Channel 4) and guests