A charity formed by leading figures in Bristol's arts community has launched a bid to buy a former police station and transform it into an artists' and community hub.
Bricks has been formed in response to the critical need for spaces for artists and community activities for the benefit of the local area.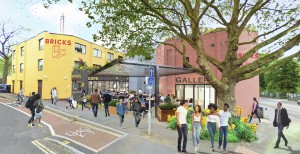 The initiative brings together artists, social enterprises and community members to reimagine what Trinity Road Police Station in Old Market could become, pictured in a CGI created by architects NOMA.
It also sets out a new, sustainable financial model to support artists and the wider community in one of the most deprived areas of the city.
The charity is calling on people and organisations to pledge their support and share ideas via its new website.
Avon and Somerset Police previously announced Trinity Road Police Station would be put up for sale this year, with the police continuing to have a presence on the site.
Ideas for the building developed through consultation with artists, community members and community organisations include a community nursery, cafe, garden area, community meeting and workshop spaces, a bike workshop, exhibition and event spaces, affordable artist studios and accommodation for artists, as well as an outdoor market and office space for creatives and social enterprises.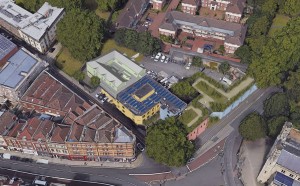 Bricks' bid to buy the site was submitted to the Avon and Somerset Police and Crime Commissioner last week. It sets out a clear plan for the future of the site, the social value it would create and the partnerships it would deliver.
Bricks chair Kim Wide – who is also the CEO of Take a Part, leaders in socially-engaged arts practice – said: "This is an exciting opportunity for the artists and community to work from the very start together to create something that is meaningful and sustainable for everyone involved.
"It supports talent development, community cohesion, and placemaking in the local area, and an interdependent network of artists. So the centre will be an incredible shared asset. We need your support and to hear from you, as artists and residents, as we go on this journey to ensure that the space that is created is really for everyone."
In 2017, Jack Gibbon from Antlers Gallery – now Bricks director – made the first step towards creating Bricks by securing a grant to research and develop a new non-profit, sustainable model to deliver spaces for artists.
At the start, it was about looking at how locally based artistic talent could be supported through providing project space, artist development programmes and studios – but Jack soon realised that by coming together with other social enterprises Bricks could generate social value for wider communities.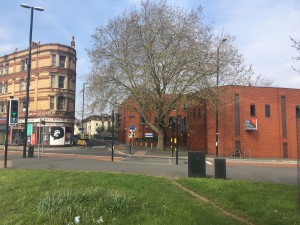 He said: "When Trinity Road Police Station became available for purchase, it made obvious sense as the focus for a new type of arts and community space. The location could potentially join the dots in the visual arts ecology of Bristol, as well as supporting and connecting the local communities of Old Market, Newtown and St Judes.
"By coming together with other artists, social enterprises and community members, we are greater than the sum of our parts and can deliver a resilient, sustainable model for the future. As such, rent paid would go towards paying off the charity's mortgage, rather than to an external organisation that has shareholders to serve. This model aims to keep the building for Bristol forever."
Bricks is calling on the Bristol community to support its vision by visiting its website, joining the list of supporters and contributing ideas for the site on the Feedback page. Partnership discussions are already at an advanced stage with a number of organisations including Rising Arts Agency, Raised in Bristol, Bristol Bike Project, Up Our Street, Trinity Centre, and Rise Youth Dance.
Clare Reddington, CEO of Bristol's pioneering Watershed media centre, has pledged her support for Bricks' bid, saying: "We see Bricks as an important part of Bristol's future arts ecology and look forward to collaborating with them in this exciting new space."