Bristol biomedical tech firm Vitamica, which is transforming the way clinicians make decisions about antibiotics, has been crowned as the city's best up-and-coming technology business.
The firm, based in the Unit DX science lab, won the popular vote and was named 'Best Elevator Pitch' at SETsquared Bristol's annual Tech-Xpo.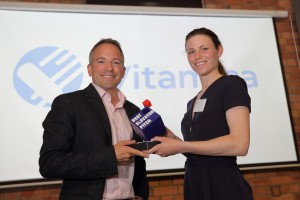 Vitamica was one of eight tech start-ups to pitch at the event held at Paintworks – with the audience using a digital voting system to decide the winner.
It scooped the prize for its rapid antimicrobial susceptibility testing (AST) technology, which differentiates between antibiotic resistant and susceptible cells.
The firm has developed and patented an optical technology that quickly informs prescribers whether an antibiotic will be effective against a bacterial infection.
This is of vital importance as antibiotic resistance has made many infections untreatable, emphasising the importance of appropriate antibiotic selection.
Vitamica CTO Charlotte Bermingham delivered the winning pitch, during which she told the gathering of Bristol tech leaders at the event that by 2050 deaths from problems caused by antibiotics will outnumber those from cancer.
Charlotte, pictured receiving the trophy from Nathan Guest of headline sponsor VWV, said: "We hope that winning Best Elevator Pitch at Tech-Xpo 2019 will lead to people becoming more aware of us. We are going through a funding round, and we're trying to build links with other companies, so we hope this award will help us start productive conversations. Everyone knows this is a problem that needs a solution, so there is an obvious reason for what we're doing, and an obvious impact."
SETsquared Bristol centre director Monika Radclyffe said: I am delighted for Vitamica on their win. All of our ventures worked hard to hone their pitches, but Charlotte won the audience over with their biomedical tech that helps clinicians prescribe appropriate antibiotics, leading to better outcomes for patients. We hope to see Vitamica achieve some well-deserved success off the back of their 'Best Elevator Pitch' accolade."
Corporate partner and head of headline sponsor Bristol-based national law firm VWV's technology sector Nathan Guest presented the custom-made 3D-printed trophy, which was created by Actuation Lab, to Vitamica on the night.
Nathan said: "This is the ninth consecutive year that we have sponsored Tech-Xpo. Our relationship with SETsquared is a key one for us and this year marks the tenth anniversary of the launch of our weekly, free-of-charge, lawyer-in-residence service to SETsquared Bristol members.
"Tech-Xpo 2019 was another brilliant showcase for those entrepreneurs who were pitching, but also for those who were exhibiting.
"It was also a great opportunity to recognise the first-class support that the SETsquared team and mentors provide to some of the city region's most exciting tech start-ups."
Other sponsors included accountancy groups EY and Corrigan Accountants, and Research and Enterprise Development at the University of Bristol.
Also pitching at the event were:
Actuation Lab, which has developed an alternate to heavy hydraulic cylinders by employing an origami-inspired design and composite manufacturing technique to produce an actuator with the potential for greater power-per-kilogram than any prior art.
Bristol Pound, which is the UK's largest local currency. It aims to create a more resilient and sustainable independent business sector in Bristol, and in turn, a more inclusive local economy. It does this by keeping the money spent in Bristol Pounds in Bristol, helping to develop a local circular economy.
Data Cubed – a data lab and consultancy business that helps businesses to make quicker, smarter decisions, and ultimately to make or save more money, using data and AI.
ELEM Biotech – a spin-off from the Barcelona Supercomputer Centre. It develops biomedical modelling solutions to test medical treatments in preclinical phases. It shortens time-to-market, reduce business risks, and improves outcomes for patients by conducting medical experiments on supercomputers.
iXport – a technology company providing a turnkey solution to enable SME's to export globally, providing an easy to use, easy to set up, e-commerce platform specifically designed for exporting with technology to provide real-time freight, forex, and export documentation quotes, all under one platform.
Maths with Parents – an online platform that helps parents and children to love learning maths together at home. Maths with Parents works with primary schools to create a tailored package of support for the parents and children in every class.
TableTiger – an innovative combination of a hand-held tablet with the latest in mobile credit card reader technology. Developed for restaurants by a team with deep industry knowledge, customers can pay their bill quickly and simply, without an app or waiter.