From Bristol 24-7 www.bristol247.com
Shops on Bristol's Gloucester Road could lose up to a fifth of their trade by 2017 if the proposed Sainsbury's supermarket development goes ahead at Bristol Rovers' Memorial Stadium.
But Rovers' new ground, which the club says it can build should the planning application be approved, would bring investment worth more than £150m and hundreds – if not thousands of jobs – to the area.
The estimates emerge as battle lines harden between campaigners for and against the Sainsbury'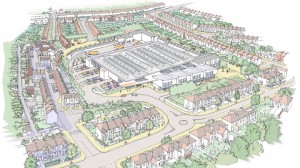 s redevelopment ahead of a crunch meeting by councillors to decide on the plans.
Councillors on the city council's Development Control Committee (North) are due to vote on the development this evening.
The scheme includes a 50,000 sq ft store, up to five small retail units and a 'home zone' with 68 properties ranging from three-bedroom town houses to flats.
An independent report from property advisers GVA, commissioned by the council, says that 18.5% of existing trade at shops on Gloucester Road – about £6.5m – will divert to the new supermarket.
Cabinet member for food, neighbourhoods and communities Gus Hoyt said: "We must protect our valuable local shops if we are to thrive and survive as a city. Gloucester Road is one of the prime examples of a diverse high street that is the life-blood of our independent traders. It is also one of the last streets in Bristol where there is a choice of grocers.
"A mega-Sainsbury's close by could destroy this precious resource, making local food even harder to come by."
Cllr Hoyt is also angry that Rovers' news stadium plans are being used as a means to persuade councillors to back the supermarket plans, saying they had nothing to do with the decision over whether the area needed a new supermarket.
Meanwhile, Daniella Radice, Green Party candidate for Bishopston and campaigner against the supermarket, said: "Rejecting the Sainsbury's application is about supporting our local livelihood and culture. Thousands flock to Gloucester Road every day of every year because it is unique – a jewel in Bristol's crown. We can't let one of Britain's last remaining high streets get shut down."
The report outlines how the new store, built on the ground dedicated to the memory of the rugby union players of the city killed during World War I, will have a larger retail floor space than the Tesco store at Eastville.
Rovers want to move to a new £40m, 21,700-seat stadium on UWE's campus at Frenchay. Selling the Memorial Stadium, which the club own, to Sainsbury's would provide most of the funds for the move.
In July, South Gloucestershire Council approved plans for the stadium subject to certain conditions.
Rovers chairman Nick Higgs said building the new stadium as well as the university's hopes for redevelopment plans would create thousands of construction jobs alone.
On top of this, there would be hundreds of new permanent jobs at the stadium, a proposed retirement village, a new academic block and the proposed Sainsbury's store, he said.