Bristol-based medical supply firm Q-Surgical is meeting rising demand for its range of wound-closure devices after securing a finance package from HSBC.
The firm, which was founded by Helene Brown, pictured, in 2013, is a prime distributor of sutures used to stitch wounds during surgery to NHS and private hospitals across the UK.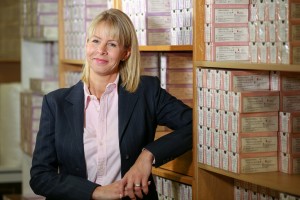 In a major breakthrough in 2017, Q-Surgical won a contract to be one of the approved suppliers on the NHS's supply chain.
Since then every NHS hospital in England and Wales has had access to the firm's products – broadening the company's customer base.
Now the HSBC funding is helping the business, which is based in Emersons Green, buy more stock from its Indian manufacturer – which it has partnered with since 2015 to be its sole UK distributor – enabling it to supply 200 more hospital departments, medical centres and vets across the UK.
Q-Surgical senior clinical sales manager Helene Brown said: "Since I established the company, I've been overwhelmed by the recognition my small start-up has received. It's my dream to continue growing the business and with the support of HSBC I have been able to realise my ambition of growing the firm's customer database."
HSBC UK Business Banking area director for Bristol, Gloucestershire & Wiltshire, David Butler, added: "We're delighted to be working with such a well-established local business that has also had so much national success.
"With ambitious growth plans and a very talented team, we look forward to continuing to support Q-Surgical over the coming months and years."
The funding package from HSBC UK – details of which have not been disclosed – was allocated from the bank's £550m SME Fund, which supports small and medium-sized businesses across Bristol, Bath, Gloucestershire and Wiltshire.