Turtle Tots, a baby and toddler swimming licensing company based in Backwell, is aiming to make a splash overseas from Canada to China after taking part in a new government-backed export awareness contest.
The firm was among 10 small firms from across shortlisted from more than 400 for the inaugural Open to Export Action Plan Competition.
Turtle Tots directors Gabrielle Lixton and Caroline Sparks presented their Export Action Plan to a panel of expert judges for the chance to win £3,000 funding – and additional benefits – towards their international growth at a recent special event in London.
The plan was created using Open to Export's innovative digital business planning tool.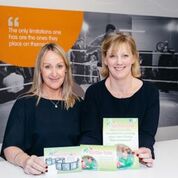 Open to Export has been set up by the government as a digital solution to boost the UK's SME exports.
Caroline said: "Although we didn't win, the opportunity to present to export experts and business leaders – who quizzed us keenly on Turtle Tots and our plans – was a very useful experience for us.
"The Export Action Plan tool has been a great help, as it made us consider things we hadn't factored in before, asked questions we hadn't thought of and allowed us to detach ourselves and view our business with fresh, objective eyes.
"We now have a firm schedule to go into new territories, including the UAE, Australia, Canada and China – and Export Action Plan has helped us enter Dubai sooner than we had anticipated."
The competition was sponsored by the International Festival for Business 2016, HSBC and the Institute of Export – three organisations dedicated to contributing to the UK economy by doing their bit to help more new and inexperienced exporters to thrive internationally.
Each of the 10 shortlisted companies has won a year's free small business membership with the Institute of Export and a year's free membership with the Great British Store.
The Export Action Plan is the latest addition to its online offering, which is dedicated to helping businesses prepare to sell overseas by giving them free access to online information, support and advice.
Using the tool allows businesses to take ownership of their export strategies, making decisions along each step of their international trade journey – from selecting a market to delivering products or services to new customers.
Gabrielle and Caroline began licensing Turtle Tots in 2011 to offer others the opportunity to run their own Turtle Tots business. It now has 44 licensees across the UK and Ireland.
Pictured, from left: Turtle Tots directors Gabrielle Lixton and Caroline Sparks at the Open to Export Action Plan Competition event