Bristol food brand Kabuto has become the first instant noodle firm to be accepted into the global B Corp network of businesses that put people and purpose on a par with profit.
Kabuto, which was founded in 2010 and now employs a team of seven in Bristol, has sold more than 23m pots of noodles and is now available in all major retailers. In 2019 it launched in the US under the brand name Kusari.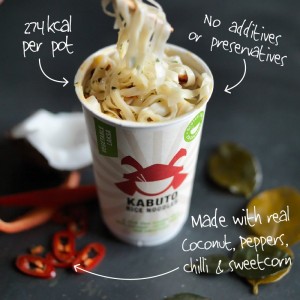 Its recognition by B Corp takes the number of Bristol businesses to gain the prestigious accreditation to nearly 20, making the city second only to London for accreditations reflecting its standing as a hub for businesses with purpose.
Globally there are now around 5,575 businesses certified as B Corps, with more than 950 in the UK employing nearly 46,500 people between them.
Among Bristol organisations with B Corp status are Business West, the region's largest business group which also runs Bristol Chamber of Commerce, PR firms Purplefish, Greenhouse and Wild West, specialist energy investment company Thrive Renewables, tea brand Pukka Herbs and financial planning firm Paradigm Norton.
UK B Corps include The Guardian, innocent, Patagonia, The Body Shop and organic food pioneers Abel & Cole.
Achieving B Corp status has been the culmination of a number of moves made by Kabuto over recent years, including creating jobs that incorporate social and environmental issues – which are regularly reviewed – and ensuring its workers are paid above living wage.
It was also the first instant noodle brand to have a 100% recyclable product, offset of carbon emissions, as well as the highest level of customer service.
Following a recent reformulation, the entire Kabuto Noodles range is now 100% vegetarian and made with non-HFSS (high in fat, salt and sugar) ingredients to recruit more health-conscious customers to the instant noodle category.
TV chef and author Kwoklyn Wan recently worked with the team to create a series of recipes with the pots, turning them into wholesome home cooked style meals.
Kabuto founder Crispin Busk said it was an incredible achievement for the brand to meet the high standards of social and environmental performance, transparency and accountability required by B Corp.
"The team has been laser-focused on achieving B Corp status. We have been striving to make our business as sustainable as possible in recent years, not only for the company but also as a responsibility to our customers too," he added.
"As a family-run business it is important to us to leave a legacy which means our products had as little impact on the planet as possible."
He said becoming a B Corp was a great validation of the ethos at Kabuto – that a company should be about more than just money but trying to operate in a way that is good for our staff, customers and planet.
"We've always aimed to be leaders in the competitive world of instant noodles, both in taste as well as environmentally, and now we've proved quality instant noodles needn't cost the earth," he said.
Before launching Kabuto, keen foodie Crispin worked at Bristol-based Pieminister as a sales manager for five years, during which he scoured supermarket shelves for new ideas.
He saw a gap in the market between the ready noodles they stocked and the noodle dishes available in restaurants.
Having realised that most people have been through an 'instant-noodle phase' – often when students – his mission was to catch those considering giving up on the snack by offering another reason to carry on eating them, with grown-up flavours and premium, authentic ingredients.