A Bristol lawyer who launched a group to help create opportunities for women in the sector who have taken a career break has won a national award.
Sarah Green, an associate in Bristol headquartered national law firm TLT's family team, earned the title of Outstanding Returner of the Year at the inaugural Women in Law Awards.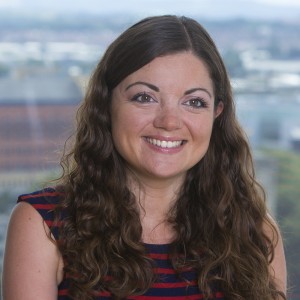 Sarah, pictured, started the Bristol arm of the London-based Women Lawyers and Mothers Network to help women who have taken a career break increase their confidence and visibility at work.
She was described by one judge as "an incredibly impressive individual whose local initiative to help mothers return to work could, and should, be replicated across the country".
Sarah also co-founded the Bristol Professional Women's Network, an informal networking group which boasts more than 200 members from across the South West and provides a platform for professional women to expand their network in the city and beyond.
Sarah said she was delighted to receive recognition from the Women in Law Awards.
"I joined the national Women Lawyers and Mothers Network while on maternity leave and quickly realised this would really benefit parents at a local level and allow them to connect and share experiences in an open, non-judgmental space," she said.
"The network is aimed at supporting parents who are anxious about returning to work in the legal sector after time out, who may be apprehensive about doing so or perhaps found that their outlook has changed, and wanting support with learning to juggle family life while maintaining and successfully developing their career at the same time."
TLT partner and equality, diversity and inclusion champion Esther Smith added: "As a firm, we are committed to empowering our female colleagues to achieve their full potential.
"We're delighted that we can use Sarah's insights and experience in this area to help us further develop our methods for supporting those returning to work after longer periods of absence, such as maternity leave or a career break.
"I'm so pleased for Sarah for achieving this much-deserved recognition for her hard work and dedication to supporting professional women in the South West and beyond."
The Women in Law Awards, which are staged by specialist business publishing group Incisive Media, showcase the achievements and innovations of women across all areas of legal practice and aim to shape the discussion around improving diversity by highlighting some of the most forward-thinking initiatives of the year.
Siân Ashton, a partner in TLT's FutureLaw team, was also shortlisted in the Innovator of the Year category for her role in the development of TLTOne – a new contract lifecycle tool designed to help clients reduce risk and business-as-usual workloads.