Bristol's business leaders believe artificial intelligence (AI) will be more of a blessing than a curse, according to attendees at this morning's International Balloon Fiesta Business Breakfast.
A show of hands among the audience at the end of a lively debate on AI's impact on society, business and the economy revealed a sizeable majority confident it will be more boon than doom.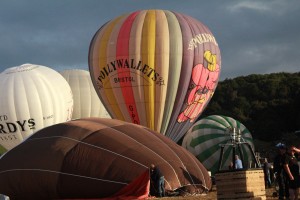 More than 200 leading business professionals gathered at Ashton Court for the annual breakfast, sponsored and organised by regional law firm Thrings for the fifth year in a row and staged in partnership with Bristol Energy and Business West.
The panel discussion and question-and-answer session on AI heard from all sides of the argument – with views ranging from dire warnings of "malevolent dictators with armies of super-intelligent, indestructible killing machines" to those who believe it will boost business efficiency, create jobs and help solve crime.
Among the panellists singing AI's praises were Mike Lloyd, founder of CLWB.org, working to simplify and democratise artificial intelligence for businesses growth; and Laura Domicevica, senior engineer at Elucidata, an innovative software company working to use data more efficiently for the purposes of AI and decisioning.
Joining them on the panel were Avon and Somerset Chief Constable Andy Marsh, who highlighted the potential of AI for preventing crimes and Tristan Cork, senior reporter at the Bristol Post. The discussion was chaired by TV and radio presenter Steve Le Fevre.
Mike Lloyd said: "Whilst the global business value of AI will reach $3.9 trillion by 2022, AI's complexity means that big tech companies, China, and a maths and computer science elite will benefit disproportionately. To help address this problem we need to simplify and democratise AI and put AI tools into the hands of many people as possible."
Laura Domicevica added: "I believe that AI can be a blessing to us humans as a domain-specific tool that has the potential to reduce mundane tasks and human error, as well as unlock personalisation in medicine, performance and other fields. The main challenge that we have is to agree how to make human-centric systems and minimise harm and disruption caused by this technology – the time to do so is now!"
Chief Constable Andy Marsh added: "I lead one of the most progressive police forces in England and Wales when it comes to the use of visual graphics and advanced analytics. Every day my officers and staff create and harvest millions of pieces of data and it's impossible for the human brain to figure it all out. So, we rely on algorithms for many areas of business including helping us to manage thousands of offenders throughout Avon and Somerset – working out who is most dangerous, whose risk is escalating and what we're going to do about it.
"AI can never replace the human elements of leadership, discretion and common sense exercised by officers and staff in their jobs. However, AI can help us focus, shape and inform our decision making with regard to where we put our resources – particularly in times when we have greater and more complex workloads and fewer resources. I believe we should use AI in a professional and regulated way to forecast and mitigate threats."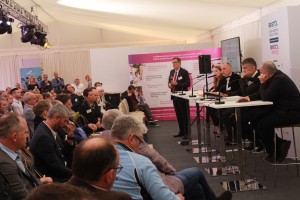 Robert Barnes, commercial property partner at Thrings and Bristol International Balloon Fiesta committee member, said: "Once again, the Business Breakfast has hit a big issue head-on. While I'm not concerned about a robot taking over my job as a lawyer (just yet), today's panel brought home quite how far AI has come in recent years.  Our economy is projected to change significantly at the hand of this sector, experiencing both a boost from more programming jobs and AI business efficiencies, while other forms of employment will inevitably shrink as humans are replaced by computers."
Despite no morning ascent due to incoming bad weather, Business Breakfast participants enjoyed a close-up view of the tethered balloons against the stunning Ashton Court backdrop and accompanying classical music, pictured top.
The early risers also experienced music and media through a cutting-edge haptic chair, as made available by tech company SubStrike.
The fiesta is Europe's largest annual gathering of hot air balloons, attracting more than half a million visitors to the city over four days. Celebrating its 40th anniversary this year, more than 130 balloons are expected to rise above the city, with visitors to Ashton Court also enjoying live entertainment, aerobatic displays, fairground rides, food, drink and children's entertainment.
Following years of engagement with the revered ballooning event, Thrings was made the Fiesta's official legal partner in June this year.