A campaign for fast-food giant McDonald's based on the board game Monopoly has landed Bristol-based customer relationship marketing agency Armadillo Gold at the direct marketing industry's top awards.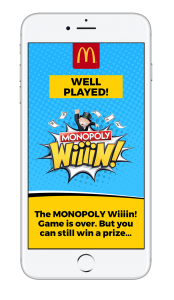 Armadillo's Monopoly Wiiiin! email campaign had unprecedented results for the brand in the channel, encouraging an incremental 400,000 players to the online game – a 10% conversion rate which equated to 13% of the entire promotion traffic across all channels.
The success earned Armadillo top rating in the Best Use of Email category at the DMA Awards 2018, beating off a strong challenge from London-based agencies.
The DMA Awards, which were staged at Old Billingsgate in London, are regarded as the annual best-in-class awards covering all areas of direct marketing in the UK, from digital and social media to mail.
Armadillo CEO James Ray said: "To win gold at the prestigious DMA Awards has topped off a brilliant year for our McDonald's UK CRM work.
"To see email as such a driving force in McDonald's biggest annual promotion is fantastic and credit to the hard work the team does in partnership with the brand." 
Armadillo, which also works with brands such as hotels.com and Disney, is preparing for a period of "expansion and inspiration" following its relocation to Bristol in May after 25 years in Bath.
Pictured: The Armadillo CRM with their Best Use of Email Gold Trophy at the DMA Awards 2018