Running highly effective campaigns for Cunard and McDonald's earned Bristol-based customer relationship marketing agency Armadillo five gongs at a prestigious marketing awards scheme.

The haul, the largest in the agency's 29-year history, included a Gold, two Silvers and two Bronzes at the DMA Awards – the annual best-in-class showcase covering all areas of direct marketing across the UK.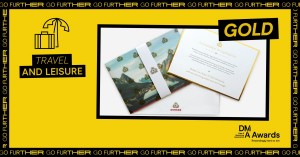 Armadillo took the top spot in the Travel and Leisure category for its Cunard: Navigating the Route to Recovery campaign, and secured further wins in Marketing Automation, Data Storytelling, Customer Journey and Integrated Campaign categories with campaigns for McDonald's.

The Gold-winning campaign was built around giving Cunard customers 'permission to daydream'.

It included an 'Invitation to Exploration' which was delivered through guests' letterboxes. Gilt-edged on heavy stock – and worthy of a place at the captain's table – the invitation was a reminder of the reasons they loved to travel with Cunard, inspiring them to look ahead with positivity and encouraging them to start dreaming about their next voyage.

More than £2m incremental revenue was attributed to the campaign, resulting in a 25:1 return on investment.

Armadillo CEO James Ray said: "What a fantastic result for our brilliant Armadillo team and our clients Cunard and McDonald's. It's so incredibly well deserved and I'm so proud of what we've achieved together."

Armadillo helps major brands develop profitable connections with their customers by building creative customer relationship marketing (CRM) campaigns that use latest technology to create digital communications based on real data insights. Other blue-chip clients include Disney and P&O Cruises.