Bristol-based specialist design agency Phoenix Wharf has worked with the winner of this year's The Apprentice to create a dessert parlour – with the TV series' host Lord Sugar helping fund the project.
The 55-cover Oh So Yum! in Bradford will become the flagship venue for a brand that Harpreet Kaur and her business co-founder – and elder sister – Gurvinder hope will become a national chain.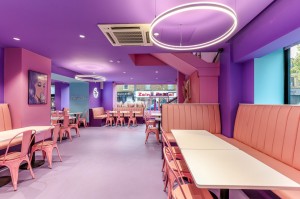 Two existing dessert parlours owned by the sisters in Leeds and Huddersfield, their hometown, have been re-branded as Oh So Yum! Outlets having formerly been known as Barni's.
Phoenix Wharf, which specialises in hospitality, retail and branding and works with a wide range of clients from start-ups to established heritage brands such as Yeo Valley, Space NK and The National Trust, was introduced to Oh So Yum! by food and drink specialist Seed Consulting.
The agency, part of Bristol creative group Istoria, joined an existing creative team on the quick-turnaround project, creating the interior design, pictured, developing the look and feel using the new brand guidelines and carrying out graphics work, including the menu design.
The new Bradford venue will become the brand's showpiece outlet, offering sweet-treat sit-down or takeaway offer and displaying the concept's new branding with a candy-coloured fantasia for the interior, inspired by Harpreet's desire for a clean-lined, Willy Wonka-style experience.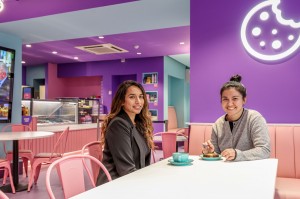 Harpreet, pictured, left, with Phoenix Wharf account director Liza Boutet, hopes the venue will help put the Yorkshire city on the map, especially with visitor numbers do to increase following its successful City of Culture bid.
The store will offer a range of sweet treats – from crêpes, shakes and cookies to waffles and ice cream – as well as halal, gluten-free and dairy-free products. A range of merchandise will also be available both online and instore, including mugs, hoodies, aprons, tote bags, moneyboxes, cups, stickers and notebooks.
The former retail premises, which now boasts a candy pink brickwork shopfront surround with branding in pink and white lettering, pictured below, will also serve as the company's headquarters and the packing centre for its burgeoning national online delivery service.
Phoenix Wharf associate creative director Emma Carter said: "This was a really fast-and-fun project to work on.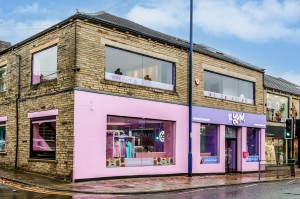 "We're delighted with the end result and hope it will be just the beginning of Harpreet and Gurvinder's dessert empire."
Harpreet added: "Phoenix Wharf were so easy to work with, both in their ability to realise my vision for the brand and the way in which they worked so well with the existing team.
"I loved their creative concept development too, so that the parlour is full of clean lines, intelligent use of space and fun colour adjacencies. We're now open, products are flying off the shelves and we're hoping the people of Bradford and beyond will really take Oh So Yum! to their hearts."
Founded in 2015, Phoenix Wharf has been nominated for several major national retail and hospitality awards and was a GOLD winner in the hospitality category of the London Design Awards in both 2019 and 2020 for its work with Yeo Valley and The Bristol Loaf.
All images by Gary Britton