Bristol's Aardman Animations have teamed up with NatWest to launch a children's smartphone and tablet app to help them learn about saving money.
The free-to-download app, the first produced by a UK bank, includes a game that allows the player to be a boy or girl pig character running a stall in an animated fairground.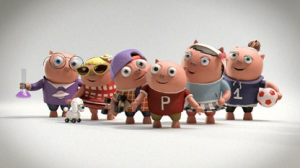 It uses NatWest's new animated savings characters Pigby and Friends, introduced at the end of last year during the launch of NatWest's First Saver account, which aims to inspire children to save money.
Pigby's friends hold other stalls so players can check how much their friends have saved and what they're saving for to inspire and spur them along.
Heather Wright, executive producer at Aardman – best known for Wallace and Gromit and Shaun the Sheep – said: "Our core audience is children, so creating the Pigby's Fair app was the perfect project for us. We wanted to use a concept that children would enjoy and we felt a game based in a fairground was an ideal platform to educate young ones."
David Crawford, Head of Savings at NatWest, added: "We appreciate that the idea of discussing money management may not be an interesting topic for children and that can make it difficult for parents to teach. We want to help parents give their children the best possible opportunities in a time where preparing for our financial future is considered so crucial."
"Aardman Animations were the obvious partner to create our innovative app and the Pigby and Friends characters. Aardman bring the ability to capture children's imaginations and we at RBS bring the savings expertise to help parents teach the next generation to save."