Hundreds of Airbus workers based at its Filton plant today watched via video link as the company's latest aircraft, the A350 XWB, took to the skies for its maiden flight.
The 300-seat long range plane, which cost about £8.9bn to develop, spent four hours above Toulouse, where it was assembled from parts made by Airbus plants across Europe. Some 900 Airbus engineers at Filton carry out design work on the a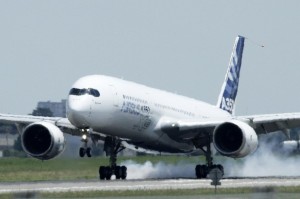 ircraft's wings, fuel systems and landing gear.
Engineering group GKN's plant at Severnside is also involved in the A350, producing wing parts out of lightweight composite material.
The A350's maiden flight comes just days before the start of the Paris Air Show – the world's largest aerospace industry gathering and the shop window for new models.
Getting the A350 airborne in time for the show is a major coup for Airbus – bosses have been insisting on it for months – and allows it to compete head-to-head with arch-rival Boeing's new 787 Dreamliner.
An Airbus Filton plant spokesman said: "Today is a great day for Airbus and aviation. Filton has played a key role in the development of this great aircraft.
"Airbus already has orders for over 600 of this new aircraft which is excellent news for not just Airbus but the whole of the UK aviation industry."
The A350's first flight marks the beginning of a test campaign totaling around 2,500 flight hours with a fleet of five development aircraft. The rigorous flight testing will lead to the certification of the A350-900 variant by the European EASA and US FAA airworthiness authorities, prior to entry into service in the second half of 2014 with first operator Qatar Airways.