Bristol-based finance firm Hargreaves Lansdown has become the first FTSE 100 listed company to be accredited as an Age Inclusive employer.
The firm, which employs more than 1,700 people, achieved the status from 55/Redefined, a UK organisation that champions anti-age discrimination.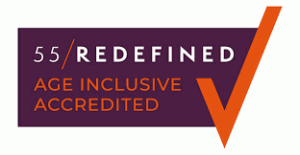 A recent study by 55/Redefined revealed that 56% of over-50s want to continue working beyond 65 while two thirds believe age works against them when applying for jobs.
Despite this, older workers are keen to remain in the workplace, with 60% open to reskilling for a new role.
Hargreaves Lansdown is one of 12 employers to gain the Age Inclusive accreditation so far, joining the likes of Rank, ITV, Boots and Bank of Ireland in having their commitment to playing a leading role in changing attitudes and challenging age discrimination recognised.
Hargreaves Lansdown said it valued skills and experience, irrespective of age, and was focused on creating an inclusive workplace with equitable opportunities for all. The accreditation would help jobseekers identify the firm as an age-friendly business to join
Hargreaves Lansdown head of recruitment and onboarding Abi Taylor said: "The Age Inclusive employer accreditation helps to evidence our commitment to develop a diverse and inclusive culture where colleagues are engaged, empowered, work together and live our values.
"We want to create an environment where colleagues respect and celebrate diversity so that everyone can be their authentic selves. We're thrilled to be partnering with 55/Redefined to further demonstrate our commitment to be an inclusive employer."
55/Redefined founder and CEO Lyndsey Simpson added: "Age Inclusive employers such as Hargreaves Lansdown play a crucial role in working to change attitudes towards older workers, both in their own businesses and wider networks.
"An inclusive recruitment process and diverse working environment allows businesses to benefit from this overlooked demographic of talented employees, whilst ensuring older workers feel valued and supported within their job roles."
She said 55/Redefined's report The Unretirement Uprising found that more than a third of over-50s still want leadership roles, and 39% are willing to retrain or reskill for a new role or career.
"Your 50th birthday shouldn't signal the end of your career, especially when the passion and desire to work is still there. Age Inclusive employers are in a unique position to be able to support some of the UK's most experienced workers and harness the potential of a forgotten generation," she added.
"55/Redefined's mission is to champion change, stamp out ageism in the workplace and add ten productive years to life. Age Inclusive employers such as Hargreaves Lansdown are supporting us in this goal and creating a path for others to follow."
Age Inclusive employer accreditation recognises employers that are committed to playing a leading role in changing attitudes and challenging age discrimination.
It also helps job seekers identify those employers which are an age-friendly business to join while helping to change behaviour and cultures in businesses, networks and communities, thereby reaping the benefits of inclusive recruitment practices.
Hargreaves Lansdown has more than 1.75m clients, making it the UK's number one platform for private investors.