The team behind The Bloodhound Project, the supersonic car under construction in Bristol which will attempt to beat the 1,000mph land speed record, is "the best in the world", says driver Andy Green.
And he should know. Not only is Andy the man who will be at the controls when the Bloodhound takes to the track in South Africa in 2015, he is also the current world record holder.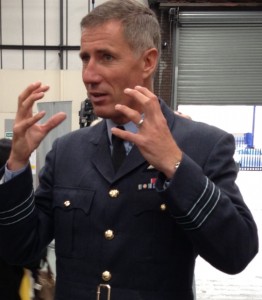 Driver Andy Green explaining a technical point
Speaking Bloodhound Project's new Avonmouth headquarters, where the jet and rocket powered racing car is being assembled, he said: "This building has got the best team in the world. Guys who built the prototype of the previous car have got the full wealth of experience – and we have got great industry support. It would be very difficult to see anyone else do that."
As a fighter pilot he has flown at faster speeds than 1,000 mph. But this is only possible at altitudes of 12,000 or 13,000 feet, where the air is thinner. Nearer the ground, the air is denser and flight speeds have to be slower, he said.
The Bloodhound Project will be going to South Africa in 2015 to start the initial drives. "The first year will be getting up to supersonic speed," said Andy, adding that crews will be looking at how the aerodynamics interact with the supersonics of the air.
"We need to maximise the opportunity of the project to engage with every young person in this country – and every young person in the world," he said.
Also at last week's official opening of Bloodhound's new technology centre were representatives from South Africa's Northern Cape where the project is employing local people to help prepare the site and a track suitable for the car to attempt the record-breaking feat.
As a result, the project is creating much-needed jobs in a deprived part of the country.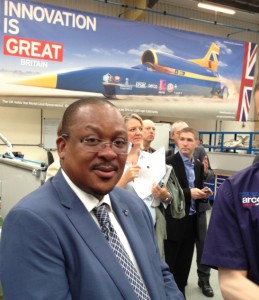 An enthusiastic John Block, pictured left, a member of the executive committee responsible for economic and tourism opportunities in the area, said: "This car brings many possibilities to us in what is a depressed area. We have been able to put money and food on the table of 300 people."
The £1m Government grant announced at last week's launch brings to £11m the amount raised so far by the project. A further £5m will be needed, which is likely to come from business sponsorship deals.