Regional accountancy group Bishop Fleming, which has the largest of its seven offices in Bristol, has boosted its backing for the arts in the city by sponsoring the latest exhibition at the Royal West of England Academy (RWA).
The Albert Irvin and Abstract Expressionism show The New American Painting runs to March 3, bringing world-class art to the city. It is the first time the firm has sponsorship an exhibition at the RWA, pictured.

It combines works by Irvin and the major abstract artists that inspired him such as Jackson Pollock, Willem de Kooning, Robert Motherwell, Barnett Newman, Sam Francis and Adolph Gottlieb from UK collections and works by Grace Hartigan and Jack Tworkov on loan from the US.
The sponsorship helps launch Bishop Fleming's centenary year, during which it aims to focus on its continuing support for the regions and communities in which it operates. As well as Bristol, it has offices in Bath, Truro, Torquay, Exeter, Taunton and Worcester.
Bishop Fleming managing partner Andrew Sandiford, pictured, said: "Sponsoring this exhibition was such an exciting opportunity for us, and being able to help deliver this artwork to the amazing city of Bristol was an honour.
"All of the regions we work in across the South West and West Midlands are so important to us that it is great when we get opportunities like this to give something back and help bring something new to the region."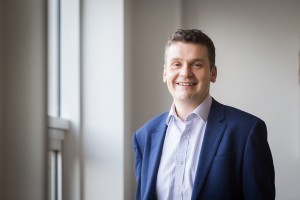 RWA head of development Kate Foster added: "As a gallery with only 1.5% of our funding secured each year, attracting sponsorship and other investment is essential for us to be able to continue to be able to bring world-class art to Bristol.
"Albert Irvin and Abstract Expressionism is the first major retrospective of Irvin's work and we're expecting lots of visitors to the RWA. I'm looking forward to our first partnership with Bishop Fleming and very pleased that they have come on board to sponsor the exhibition."
Bishop Fleming employs 29 partners and more than 340 staff delivering accounting, tax, corporate restructuring and advisory services to businesses, academies and charities and private wealth advice to individuals, in the UK. It is ranked 26th in The Sunday Times 100 Best Companies to Work For.