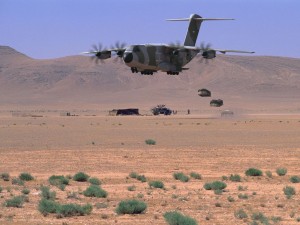 Fresh turbulence has hit the troubled Airbus A400M turboprop military transporter with reports that Germany is looking to scale back its orders for the aircraft whose lightweight carbon fibre-reinforced plastic wings were designed and are being made by Airbus in Filton.
Seven European countries – Belgium, France, Germany, Luxembourg, Spain, Turkey and the UK – are committed to buy 174 A400Ms although, with the project at least 11bn euros over budget as a result of weight and engine cost overruns, they had to agree to put up more money last year to avoid Airbus cancelling the project.
Airbus Military is expected to deliver the first four-engine turboprop in 2013. It has been designed to replace Europe's ageing transporter fleet with an aircraft that is designed to carry helicopters, armoured vehicles and troops but cutbacks would put Germany on the hook for penalty payments running into billions of euros without the cooperation of industry and governments – including France, the UK, Italy and Spain who agreed to share development of the airlifter based upon the size of their individual orders.
German defence minister Thomas de Maiziere reportedly wants to cut Berlin's A400M orders from 53 to 40 as part of plans to scale back the military might of Europe's richest nation by a third. The size of its army is to be cut to 170,000 troops with the abolition of national service and its focus is being switched to on an all-professional army for more foreign operations like Afghanistan.
Germany also wants slash its orders for the Eurofighter Typhoon fighter jet from 177 to 140 – which could have implications for engine maker Rolls-Royce at Patchway – with other reductions including 80 instead of 122 EADS NH-90 transport helicopters, and only and only 40 Tiger attack helicopters, half the original order.
A similar problem faced the UK when it cut orders for the Eurofighter but it managed to seal a deal to sell on part of its order to Saudi Arabia. A similar plan could be considered for the aircraft Germany has contracted to buy although finding buyers is far from certain, according to industry experts. India is considering the purchase of 100 Eurofighters but is interested in jets with air-to-ground attack capabilities and not the early air-to-air Eurofighters Germany is expected to want to abandon.
Meanwhile Airbus, whose Bristol team is also working on the A400M's air-to-air refuelling system, has refused to comment ahead of a formal announcement about cutbacks from Germany expected later this month.
The aircraft maker, which has 10,000 employees in the UK at its facilities in Filton and Broughton in North Wales, is known to have major regrets over the whole project. Airbus initially agreed a fixed price for the planes and chief executive Tom Enders told the BBC last year: "We made a big mistake when we contracted for this aircraft six or seven years ago."