A Western Powerhouse to rival that of the North of England came a step closer today when Bristol, Cardiff and Newport unveiled the results of a major research project underpinning the concept.
The three – working together under the title Great Western Cities (GWC) – commissioned the research to illustrate the combined economic might of the Severnside region.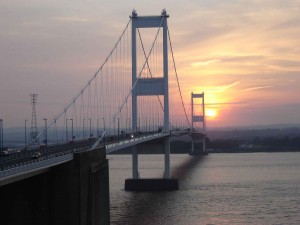 Announcing the results of the report in Bristol this morning, civic leaders from the three cities said collaboration would enable the region to compete for Government funding against the Northern Powerhouse of Manchester and Leeds and the more recently coined Midlands Engine around Birmingham.
The report focuses on three areas of further collaboration – stronger transport links, harnessing the region's renewable energy potential and improving its international profile.
Mayor of Bristol George Ferguson said the GWC idea would not cut across ongoing efforts to bring the four West of England local authorities together to bid for devolved powers from Whitehall.
Working with Cardiff and Newport would bring mutual benefits over and above closer West of England ties, he said.
"The Great Western Cities offer a strong economic area with huge potential for further growth," he said.
"This welcome report confirms what we suspected when we formed this extremely promising alliance with Cardiff and Newport – that we are stronger working together and between us there are many areas which are ripe for collaboration which can benefit all sides."
The report, compiled by Metro Dynamics, picks up on the growing economic importance of cities worldwide. It concludes that with a combined population of around 1.8m people, Bristol,Cardiff and Newport were around the same size as other successful 'powerhouses' – and that a population of between 1.7m and 1.8m appeared to be the optimum size for that success.
Better connectivity between the cities would be vital for their future growth, the leaders said. Cutting rail journey times between the three by just 20 minutes could result in savings of more than £1bn over the next 60 years, the report says.
The three leaders also said they would investigate collaborating on inward investment – possibly promoting the Western Powerhouse to overseas firms looking to move into the UK. This would take the form of stressing the shared strength in sectors such as technology and financial services and the research power of their universities.
There could also be joint work on raising skills levels.
Ben Lucas of Metro Dynamics said: "The case for a Great Western powerhouse is a strong one.
"Our research shows that there are already more people commuting between the Cardiff and Bristol Metros than between Leeds and Manchester, even though the journey is equally slow.
"As with the Northern Powerhouse, better connectivity will reap big rewards in creating a larger, more productive labour market across the Great Western Cities."
A full analysis of the report will appear in next week's Bristol Business News e-bulletin.