The world's first 'amazement park' opened in Bristol last weekend, with tickets for its first few days selling out.
Bristol Business News travel editor Anne Gorringe went to check out this magical attraction, created in a rundown former paint factory.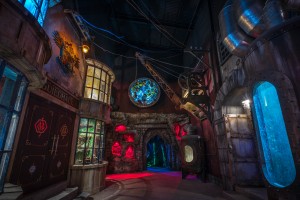 Promised a 'magical journey to another world', I'm excited – and a little apprehensive – to arrive at what was once an anonymous factory in the city's once industrial heartland of St Philips.
Now transformed by many of the city's most inspiring creatives into the brilliant Wake the Tiger, the outside of this new attraction owes more than a nod to its origins.
Co-founders Graham MacVoy, Chris Rutherford and creative director Lak Mitchell have clearly run with this – daubing the outside wall in colourful splashes of paint. 
When you buy tickets for Wake the Tiger, your invitation stresses that the site is actually a development of luxury flats 'in progress' – supposedly being built by the fictional 'Meridia' company.
Actors in the role of marketing staff welcome you into the 'show flat' – but, as the story goes, there's just one problem.
Work has had to stop because of the discovery of a mysterious tree in the middle of the complex. 
This is really where the fun starts. As soon as you leave the 'show flat' you turn the corner to enter the site. Here, as you walk towards the tree, you enter a portal into a parallel new world and find yourself transported into the magical realms of Meridia.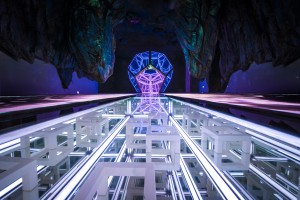 First stop is a crazy, Willie Wonker-type factory room where ancient stone plaques and steam punk-style décor, give the first hint that this world is run by four 'guilds'.
I won't spoil the surprise but, it seems to be a bit of a nod to Harry Potter – with, as managing director Graham MacVoy adds, "a touch of Mad Max thrown in". 
Journeying through the magical land of Merida, I do my best to discover and walk through all 27 individual artistic rooms.
Each creates a unique environment that includes artwork, installations, secret passageways and added surprises. And there's at least one room that reminded me of an episode of Netflix's Stranger Things.
On the way, buttons prompt you to press and explore the room – one leads me to a secret opening into a hidden room that I completely missed on my first go around.
Some £2.5m has been spent creating this amazing new world, which has also brought around 50 full and part-time jobs to Bristol.
Wake the Tiger is not easy to explain – it's perhaps best to think of it as a cross between a film set, an art gallery and an immersive experience.
With a film set-style backdrop, the concept, I'm told, is to ignite the imagination and demonstrate how age-old ideals continue to transform the way we live and encourage us to make positive steps to create a brighter future.
"It's a multi-layered labyrinth of immersive environments, secret passageways, hidden forests, temples, ice caves and mesmerising wonders," says Graham.
Sounds like the perfect mix for the unique new attraction, put together by the Bristol-based creatives behind the internationally renowned annual Boomtown Fair, which mixes music, actors and an incredible light show to create a 'different world'.
The concept attracted backing from Bristol branding agency Taxi Studio, which invested finance and significant resources into the initiative and also produced the brand design and advised on marketing strategy.
There was also strong excitement from the public, with a crowdfunding campaign raising £1.85m in equity.
But why was Bristol chosen as the venue for this world-first 'amazement park'?
According to Graham it was because it is such an amazing city.
"The fantastic mix that we have here of amazing tech firms and creatives makes it the ideal place," he says.
"We also wanted to create something outside of London that of nationwide importance."
Wake the Tiger is aimed at a family audience but, while it is open to children over the age of five, it's best to be wary as there are dark corners which could be scary for little ones.
My son loved it – but then he is aged 26! Personally, I would say that it's perfect for a 'multi-generational' trip out.
Graham adds: "Having spent over a decade creating one of the most largescale immersive festival experiences in the world, we wanted to expand and diversify our creative potential by establishing a year-round arts and events venue where our audience can experience the work in a non-festival environment.
"From this Amazement Park our creative community can evolve and explore an ongoing, collaborative process together."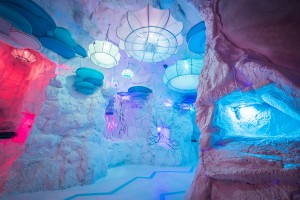 My verdict? Well, it's a bit crazy, but simply magical and lots of fun. It took me around 50 minutes to walk through all the rooms, but we could have spent longer. It all depends on how in depth you explore – and we may have been a bit too keen to explore the bar and cafe area at the end.
So where does the name come from? Apparently, it owes its inspiration to creative director Lak Mitchell's wife Rachel, who is a therapist. She knew of a self-help therapy book called Waking The Tiger, which seemed to hit the spot.
"Wake the tiger is all about being the best you can be – if you can be the best you can be, then the world's a better place," adds Graham.
All images courtesy of Andre Pattenden