The Bristol office of global property, construction and management consultancy Rider Levett Bucknall UK (RLB) has been strengthened with two key building surveying appointments.
John Bird, pictured, right, has been recruited as a partner to oversee the West and Wales building surveying team while Bradley Smith, pictured, left, has joined as an associate.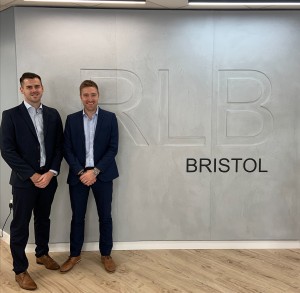 RLB, which employs around 1,500 people across its 38 offices in 32 countries, said John and Bradley brought a wealth of experience and knowledge having previously worked for built environment consultancies across the South West and Wales, including Gleeds and WSP.
The pair, who will also work in RLB's Cardiff office, have joined as RLB continues to grow its presence across the region.
The firm is working on a number of projects across the region in the residential, infrastructure, commercial and education sectors including for the University of Bristol, Bristol City Council, Bath & North East Somerset Council and SERCO.
RLB managing partner, West & Wales, Jackie Pinder said: "Building surveying is such an important area for our clients, covering critical issues from project delivery and professional services to fire safety, quality monitoring and retrofit services.
"We have been delighted to welcome John as building surveying lead partner and now Bradley as an associate to the RLB West and Wales team.
"I have no doubt their combined expertise and passion for innovation and delivering solutions for clients will be a valuable addition."
John Bird, who spent nearly two-and-a-half years with Gleeds before moving to RLB, added: "Right from the start, the appeal for me in joining RLB was a combination of the fantastic talent in the company and the real desire to grow the business across West of England and Wales.
"The whole team is committed to delivering the best solutions and outcomes for clients and I am very pleased to have joined at such an exciting time."
Bradley Smith said: "From my first meeting with RLB there was a real personal feel to the business and a clear plan for where it is going."
John and Bradley reporting into RLB's newly appointed national head of building surveying Steve Reynolds, who was promoted from within the business.