A former cigarette packet factory on Bristol's outskirts is to be redeveloped to create much-needed industrial space.
The Amcor Packaging factory in Warmley closed two years ago with the loss of all 75 jobs. It was the last of the Bristol area's once world-leading cigarette packaging industry, which had grown on the back of the city's centuries-old tobacco industry.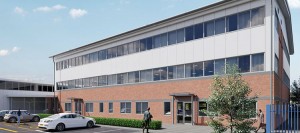 Now London-based industrial development and asset manager Chancerygate has secured £6m of funding from NatWest to speculatively develop a multi-unit industrial scheme on the site.
The firm, which has developed similar sites across the country – including at nearby Emersons Green – is to build 14 units totalling 85,952 sq ft and refurbish an existing 34,960 sq ft warehouse space.
Chancerygate acquired the 6.6-acre site in June last year and has since refurbished the existing 20,987 sq ft of office space and named it Warmley Business Park, pictured.
The additional 3,700–12,000 sq ft units will be available on a freehold basis while Chancerygate plans to let the warehouse.
The firm has more than 20 years' experience in the commercial property sector and has delivered more than 8.5m sq ft across the UK. Over the past 12 months it has acquired nine new sites, representing an investment of £41m. 
Chancerygate group finance director James Deane said: "Our aim is to identify opportunities in strategic locations previously deprived of modern, high-quality stock.
"Our development of the site in Warmley reflects this strategy as there is a significant lack of supply of industrial space in Bristol, particularly smaller freehold units.
"The funding from NatWest will allow us to develop the remainder of the site, meeting the demands of the growing urban logistics market as we continue to reaffirm our position as one of the UK's leading industrial developers."
Chancerygate's Vertex Park scheme in the Emersons Green Enterprise Area is a 4.8-acre site close to the Bristol and Bath Science Park providing high-quality business units in a business park environment with tree-lined boulevards and generous landscaped areas.
Amcor blamed the closure of the Warmley factory on the introduction of plain cigarette packaging and illegal imports of bootleg tobacco, both which it said had damaged sales.