University of Bristol spin-out Forefront RF has raised £6.7m in a new funding round to support the growth of its technology, which is set to revolutionise the way smartphones and devices are designed.
The semiconductor firm is commercialising academic research originally conducted at the university, including speeding up and lowering the cost of smartphones design, along with wearable tech and IoT (Internet of things) devices.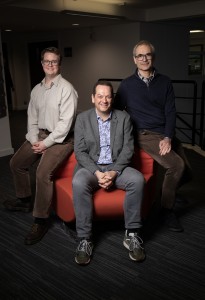 Its unique 'adaptive passive cancellation' technology uses software control to enable connected devices to operate effectively across the increasingly wide range of mobile telephony frequency bands.
This removes the need for a traditional switched SAW and BAW crystal filters and, in turn, enables manufacturers to simplify the design and deliver products while reducing cost and supply chain waste.
The latest investment was led by BGF, one of the largest and most experienced growth capital investors in the UK and Ireland, alongside existing investors, Bristol-based Science Creates Ventures and Foresight Group.
Forefront RF was established by Dr Leo Laughlin and Julian Hildersley, with much of the research leading up to its creation conducted at the university's Communication Systems and Networks Laboratory.
Forefront RF, now based in Cambridge, raised £1.5m in 2021 to recruit a world-class team to accelerate the launch of its products.
The highly talented and specialist team includes Ronald Wilting, who was appointed CEO last year, bringing 25 years' experience in radio frequency technology, having worked in engineering, marketing, sales and leadership roles for firms including Ericsson, Qualcomm, NXP and SemiBlocks.
He works closely with Dr Laughlin and Julian Hildersley to deliver on the company's ambitious growth strategy.
They are in turn supported by experienced chair Phil O'Donovan, co-founder and MD of CSR (formerly Cambridge Silicon Radio) – a multinational fabless semiconductor company which delivered 4bn chips and became the market leader in Bluetooth chip technology before being acquired by Qualcomm for $2.5bn in 2015.
The initial round was led by Bristol-based Science Creates Ventures with BGF and Foresight Group also participating.
The latest round will help it capitalise on strong industry trends and take advantage of global market dynamics to drive further growth.
Forefront RF CTO Dr Laughlin said: "We're delighted to receive further funding to support the delivery of the next stage of Forefront RF's growth strategy.
"Forefront RF is well positioned to capitalise on strong global growth prospects, addressing an industry wide challenge with our cutting-edge technology."
Forefront RF chair Phil O'Donovan added: "Forefront RF has built an experienced and highly specialised team to bring its pioneering technology to market.
"We are excited to embark on this next chapter of the company's mission and are grateful to our investment partners for their continued support."
BGF investor Dennis Atkinson said Forefront RF had developed a leading technology solution and highly compelling proposition for a rapidly growing global customer base.
"We look forward to continuing our work with Ronald and the talented Forefront RF team as they embark on their next stage of growth," he added.
Harry Destecroix, investor at Science Creates Ventures, said: "We're delighted with the progress Forefront RF has made since our early investment in 2021. It has been great to support the company to date and we look forward to its continued growth and success."
Pictured, from left: Forefront RF co-founder and CTO Dr Leo Laughlin, CEO Ronald Wilting and co-founder Julian Hildersley