A world-class health technology cluster could be developed in Bristol following the opening of a £5m centre.
The hub, on UWE's Frenchay campus, will help businesses develop innovative products harnessing technology that enables people to live independently and manage their own health and wellbeing, ensuring they spend the least possible time in hospital.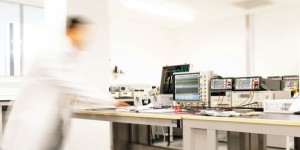 The hub offers companies tailored support for their product development and prototype testing, including access to state-of-the-art technology and specialist support from UWE academics.
It aims to boost regional economic growth, create new regional jobs and international recognition of the vibrant health and life sciences sector in the West of England. While Bristol boasts strong tech clusters centred on a range of tech from apps and robotics to VR, it has never developed a health tech.
Prof Steven West, Vice-Chancellor of UWE and chair of the West of England Academic Health Science Network, said: "This world-class facility brings together clinicians, scientists and industry experts to solve some of the most challenging issues of health and social care practice. I am convinced that this will deliver tangible results for patients and grow a vibrant health tech cluster and collaboration here in the West of England. It links closely with the ongoing work in diagnostics, robotics and 5G fast data monitoring and transfer in real time 24/7."
The 900 sq m facility in UWE's University Enterprise Zone, which also houses Bristol Robotics Lab, the largest robotics complex in the UK, the Future Space incubator for high-tech start-ups, and the Launch Space innovation incubator for graduate tech start-ups.
Products in development within the facility include next-generation diagnostic wearable biochemical sensors able to detect diseases and monitor patients' long-term health conditions, as well as highly sensitive, easy-to-use devices for rapid detection of infections for home-use.
Health Tech Hub co-director Prof Janice Kiely said: "Today doctors often give people antibiotics as standard, which are suitable for some patients but not all. The type of technology we are looking at here aims to enable doctors to test the sample there and then, rather than having to send samples off to a lab. This allows them to administer a precise treatment, reducing the global threat of antimicrobial resistance."
Companies can also benefit from a live-testing apartment within the facility. The fully furnished one-bedroom flat enables engineers to measure the functionality of their products and, using cameras, monitor how people might interact with them while at home.
The space will also allow them to evaluate the use of new home diagnostics, for example smart toilets, and new systems for treatment monitoring, as well as activity monitoring and prompting of everyday tasks.
Tech companies can get feedback from the public through focus groups and other user-led evaluation organised within the Health Tech Hub, before they launch them as fully-fledged products.
Other provisions available within the facility will help companies to develop technology related to digital health, which looks at how information about someone's health is stored, communicated and displayed.
Within the cell culture facility, experts can look at the biocompatibility of health technology, for example implantable sensors for unobtrusive, continuous monitoring of indicators of health.
While in the genomic laboratory, companies can develop technologies for personalised medicine, which are tailored to the patient according to their genetic make-up.