Bristol-based specialist tech consultancy Techmodal's support for Armed Forces Reservists and veterans has earned it a top award.
The firm works with defence, industry and public sector clients to transform their operations in areas as diverse as staff training, vehicle fleet operations and supply chain efficiency by using their own data.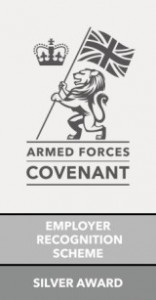 Since it was founded in 2005 by PhD students Martin Jonik and David Evans it has been firmly established within the defence sector and supports the wider Armed Forces community, particularly within the general population, such as Reservists and veterans.
That approach has now earned it an award under the Defence Employer Recognition Scheme (ERS), which champions employer organisations with Gold, Silver and Bronze awards for supporting the Armed Forces.
Techmodal's head of people Sarah Trevelion is a serving Army Reservist currently appointed as 2IC 39 Sig Regt based in Bristol.
She said: "Techmodal is absolutely thrilled to have been awarded the Silver Employer Recognition Scheme award by Defence Relationship Management.
"As a serving Reservist and the people lead in the business, I'm delighted that we are able to support our serving and veteran colleagues.
"Our people are what make our business, and through our current and future initiatives we are looking forward to continuing our support for the Armed Forces community."
Techmodal offers a selection of consulting, cost modelling, analysis and software development capabilities. It has worked with all UK front line commands and the DE&S (Defence Equipment & Support) since its launch 18 years ago.
The firm employs more than 100 market experts, data scientists, consultants and systems analysts at its head office in Queen Square, using ingenuity and innovative technology to uncover the data needed to drive lasting organisational change.
It regularly sponsors military sporting and fitness events and this year team members were at the KPMG annual defence charity dinner which raises money for Armed Forces charities.