Future Space, the innovation centre on UWE Bristol's Frenchay campus, has reached full capacity less than three years after opening as a launch pad for a new generation of tech and life sciences sectors.
The 'no vacancies' sign has gone up at the hub after it welcomed a clutch of new leading-edge businesses over the summer.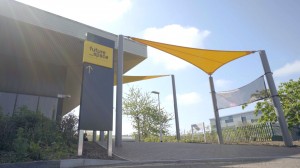 Future Space, which is managed by Oxford Innovation (OI) on behalf of the university, currently hosts 47 companies with about 270 staff.
Between August 2017 and July last year Future Space generated nearly £5m. Full third-year result are to be published soon and are expected to reveal even more impressive statistics.
The latest arrivals include a number of fledgling robotics firms, in keeping with one of the hub's founding ambitions to build on Bristol and the West of England's pre-eminence in the fast-growing sector.
Future Space has played a part in the success over the past couple of years of internationally recognised, award-winning robotics start-ups such as Open Bionics, Reach Robotics and Homelync.
Future Space is co-located with the Bristol Robotics Laboratory (BRL) and Health Technology Hub in the University Enterprise Zone at the heart of UWE's main Campus.
As a result it is able to connect entrepreneurs and tech innovators with scientists, researchers and graduate talent to spark collaboration, innovation and growth.
It is also supported by the Department for Business, Energy & Industrial Strategy and the West of England Local Enterprise Partnership (LEP).
The new arrivals include Perceptual Robotics, Absolute Robotics, Yantra Digital, Pulmo and SciFlair.
Absolute Robotics works with businesses to optimise production processes using collaborative robots or 'cobots'. Parent company Absolute Automation Group is already a well-established SME specialising in industrial automation across a range of sectors.
The robotics business is a relatively new venture which has moved into the innovation centre to make the most of working alongside other hi-tech companies to expand their product applications.
Future Space centre director Martin Reid said: "The centre being at maximum capacity is certainly an indication of the exciting potential for collaboration, growth and innovation we are currently seeing in the Bristol tech and life sciences sectors.
"I'm thrilled to welcome these new residents and I can't wait to learn more about the remarkable work they're doing.
"We've celebrated our third birthday this August and what better way to commemorate the occasion than with a full house."
UWE pro vice-chancellor of research and enterprise Martin Boddy added: "After just three years in operation, Future Space has achieved some incredible milestones.
"Importantly as well, we are seeing ever-growing collaboration and joint working between Future Space businesses, university researchers, our students and recent graduates.
"This is testament to the growing importance and influence of the Bristol and Bath region within these sectors and we're thrilled to be at the forefront of this with the UWE Bristol University Enterprise Zone and the innovation hub."